Participate in Research
Tourism Experiences of People with SCI in the Gold Coast Region
If you are someone with Spinal Cord Injury (SCI) and you live on the Gold Coast, or have traveled on the Gold Coast, we need your expertise!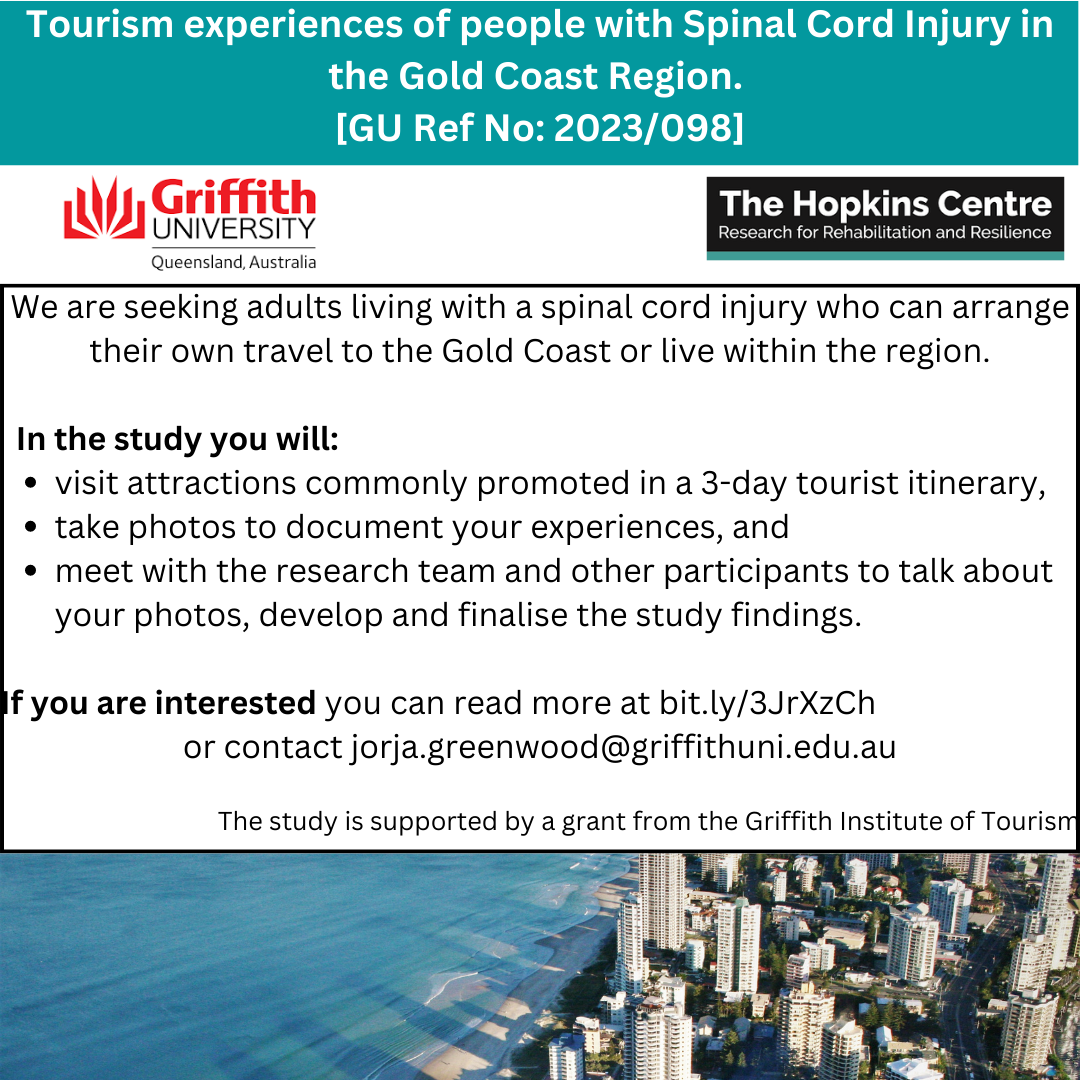 In partnership with Spinal Life Australia, THC researchers are looking to investigate the tourism experiences of people with SCI when travelling on the Gold Coast. We are interested in how people with SCI experience tourism activities within the Gold Coast region, to help us identify what is working, what is not working, and what is needed to achieve accessible tourism in the region.

Click here for more information and to register your interest.
Adjudicating Rights for a Sustainable National Disability Insurance Scheme
CALL FOR RESEARCH PARTICIPANTS
AGED 18+ who live in Greater Brisbane or North Queensland
Do you have a NDIS funded plan?
Have you requested an internal review or AAT appeal of your plan?
If you answered YES, and you received a decision from the review or appeal within the past 2 years, we'd like to hear about your experiences.
Participation will involve an interview (in-person, online or via phone) of 45-60 minutes with a member of the research team. You will be asked about your experiences of planning processes, expressing your support needs and what the important aspects in claiming these supports were.
We are interested to know your thoughts on fairness around the processes and outcomes to contribute to a more transparent and equitable NDIS.
Interview participants will receive a $50 gift card.
If you would like to find out more, please register your interest here or contact Dr Eloise Hummell on e.hummell@griffith.edu.au or 0404 459 894.
For more information about the general project please visit: https://www.hopkinscentre.edu.au/project/arc-adjudicating-rights-for-a-sustainable-112
Griffith University ethics approval (GU 2020/137)


Click here to register your interest and receieve a call from a researcher with more information.
Help us to improve psychological support and treatment for people with traumatic brain injury (TBI)
We are part of research group looking for the following volunteers to participate in a study about treatment priorities for mental health, behavioural, and social difficulties following Traumatic Brain Inujury (TBI). This study will be developing guidelines for the treatment of psychosocial difficulties (i.e., mental health, behavioural, and social difficulties) in adults with moderate-to-severe TBI.
We invite participants with lived experience to complete an online survey and be reimbursed with a gift card for their time:
Aged 18 years and older
Individuals with TBI who have experienced a moderate-to-severe injury
Individuals supporting an adult who has experienced a moderate-to-severe TBI (e.g., a partner, family member, friend, carer).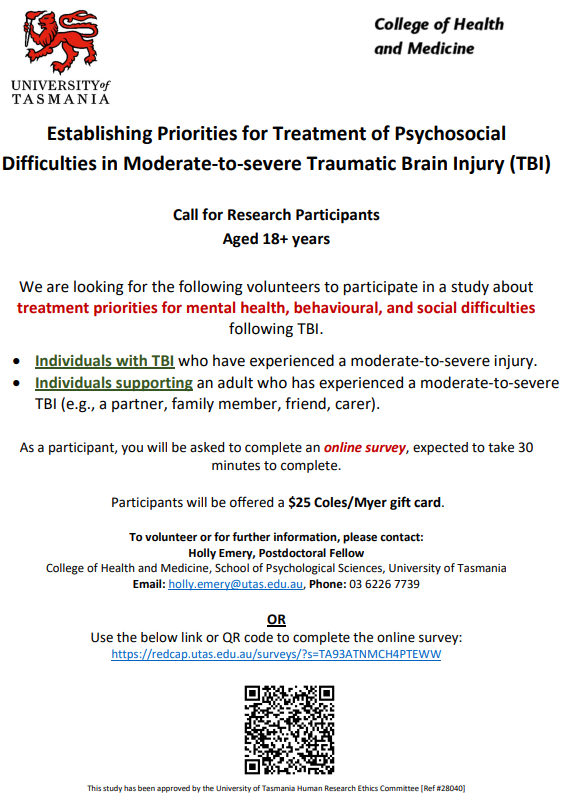 Click here to participate in the research study and learn more about the project