Leah Coman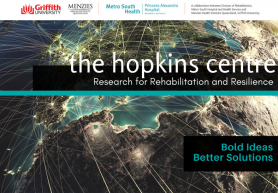 Leah is a speech pathologist working at Gold Coast Health and Griffith University in a conjoint researcher and lecturer position. She is an early career researcher and has just commenced a Master of Philosophy degree, where she will be evaluating the development and implementation of a videofluoroscopic swallow study (VFSS) training package targeting radiology registrars. In 2016, Leah and Dr Kelly Weir were successful in obtaining $50, 000 to develop the VFSS training package as part of Gold Coast Health's Improvers Program. Leah is also involved in several other research projects across Gold Coast Health and Griffith University and has published a peer-reviewed article on high intensity voice treatment. Her research and clinical interests lie in the assessment and management of swallowing and voice disorders, interdisciplinary working and clinical education and training.
Publications since 2016:
Wenke, R., Stabler, P., Walton, C., Coman, L., Lawrie, M., O'Neill, J., Theodoros, D., & Cardell, E. (2014). Is more intensive better? Client and service provider outcomes for intensive versus standard therapy schedules for functional voice disorders. Journal of Voice 28(5): 652e.31-652e.43.
View All »
Featured Publications
No Featured Publications