Redha Alrikabi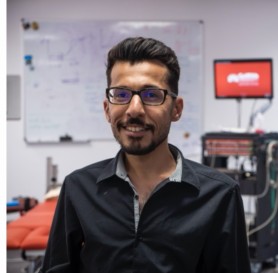 Research Assistant, The Hopkins Centre
What is your general research or work expertise?
My general research is about human movement assessing the gait cycle of normal and pathological individuals such as people with developmental dysplasia of the hip, cerebral palsy, etc.
What is your current area of interest/ what current research do you have at the moment?
My current area of interest is still within and related to disability and rehabilitation.
What was your employment experience prior to becoming a researcher?
I did not have enough work experience prior to becoming a researcher; my goal was always to study and achieve something through education. Upon the completion of my bachelor's degree, I had awarded a research scholarship from USQ, in which I went from being a master student to a Ph.D. student. During my time at USQ, I have been working closely with my supervisors amongst different projects about image processing, human gait analysis, as well as being involved in voluntary teaching and supervising undergraduate students.
What inspires you in your work?
People with disabilities, I feel they or we can show the world that "dreams are achievable no matter what. " I was born with hip dislocation, and I had suffered a lot in my childhood until I had my first operation when I was only nine years old. Since then, I have always fought to stay healthy and positive, experiencing tremendous challenging times in my life. So, my disability was my motivation to start research in human movement and gait analysis since my senior year t at the University of Technology, Baghdad, Iraq.
What is something people would find surprising about you?
The one thing that people might find surprising about me is the first time I spoke English was in 2013 when I did my English Course over in the USA at the University of Missouri. People get surprised when I tell them that I learned English just a few years ago, and they always say, " that you picked up the accent so quickly. Also, I coach football/soccer in my spare time; I think I sent a lot of messages by working with healthy individuals and coaching the young players how to play the game. What do you do for fun in your spare time? I usually go out with friends experiencing the nature of Australia; I like to go to the beach, and fortunately, I am living very close to the coast in Cleveland.
View All »
Featured Publications
No Featured Publications