Daniel Clarke: Tears in the jungle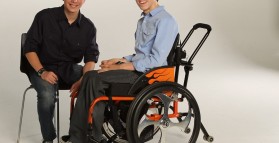 Daniel Clarke: Tears in the jungle
Our International Day of People with Disability (IDPwD) guest, Daniel Clarke – along with brother William, started their journey to save the critically endangered orangutan in Borneo and Sumatra at just 8 and 10 years old.
Daniel – who was born with cerebral palsy, first become interested in the plight of the orangutan after the passing of Australian icon Steve Irwin – and watching a documentary by Kim Watkins, called 'Saving Orangutans'.
Moved by what they saw, the brothers become motivated to do their part to save these beautiful, but vulnerable animals. In 2007, Daniel was approached by the Starlight Foundation who granted his ultimate wish 'to save the orangutan in Boreno'. A visit in person and a memorable close encounter, served to fuel Daniel's passion further – and since this life changing experience, the brothers have made an enormous impact – raising awareness and significant funds for this very worthy cause.
Daniel and William's dream "is that all orangutans will live peacefully, in the jungle, with no threat to their future. We believe we can save the orangutans from extinction."
Hear Daniel's impactful story, dream and vision in his recorded interview with Dignity Project Lead Kelsey Chapman. View the YouTube Video below or directly on YouTube: https://youtu.be/iiuMLXuDVqg
This video is accessible and has closed captions which can be turned on in YouTube by clicking button with the double CC icon in the lower right hand corner. The full transcript can be downloaded here
Please email us at dignityproject@griffith.edu.au for an accessible PDF copy or a copy in another format.
FOR MORE INFORMATION:
Website:
www.tearsinthejungle.com
Book orders:
orders@tearsinthejungle.com
Tags: Dignity Project
Related Articles
Comments