The Hopkins Centre's unique knowledge and expertise established over the last five-years has enabled us to embed key platforms and processes within the service development and delivery context. We have now organised all our research activity around four programs of work.
Our research brings together academic, clinical and citizen researchers around important challenges in rehabilitation and disability service delivery and community support. Our programs support the uptake of evidence from across disciplines to inform practices and to stimulate the creation of bold new solutions. Each program delivers capacity-building, translation and impact initiatives, with program leaders that facilitate research that derives from clinical challenges experienced in the daily practice of rehabilitation and consumer challenges experienced in daily life after disability.
Our Research Programs bring together a broad range of research and professional disciplines including social work, psychology, neuropsychology, speech pathology, physiotherapy, occupational therapy, ICT, engineering, nursing, medicine, environmental sciences, and law to address the sticky problems in meeting the growing demand for rehabilitation and disability services today. Our ability to approach complex challenges and develop rapid solutions, is enabled by our long-term interdisciplinary and cross-sectoral networks, our embedded researchers, and our systemic approach to understanding the issues we need to address. Our researchers have been exposed to a different way of working and have now progressed to new positions where they are influencing other researchers.
Population Groups
We focus our efforts, expertise and resources to service five distinct population groups:

Research Pillars
Our research programs are underpinned by four pillars, focused on engaging citizens and practitioners in the design, implementation and translation of research in an embedded model of research from within health and disability services and the community. Our researchers role model interdisciplinary research practices and drive integrated knowledge networks to promote rapid translation of research into practice.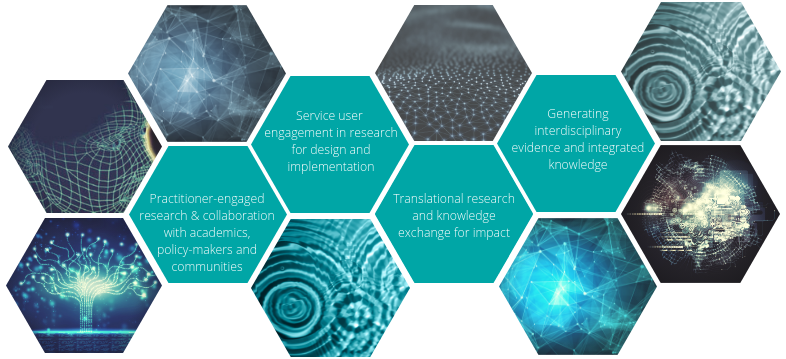 Click here to read more about our four Research Programs
---