Perry Cross: Spinal Cord Injury Awareness Week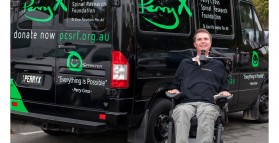 Please note – This is a portion of the blog interview.
To read the full blog and others, please join The Dignity project Community Hub
The Hopkins Centre Dignity Project is excited and honoured this week to be joined by Perry Cross AM, Executive President and Founder of the Perry Cross Spinal Research Foundation (PCSRF) – in observation of Spinal Cord Injury Awareness Week and SIP Week.
Perry founded the PCSRF after traveling to the United States as an Advisor to the United Nations General Assembly, and meeting with the late Christopher Reeve and his envoy there. He was awarded "Suncorp Young Queenslander of the Year"; was a finalist for the "Young Australian of the Year" awards; was the first quadriplegic to complete a Communications and Business Degree at Bond University; has published numerous books; was named "Cure Warrior Advocate of the Year" at the International Working to Walk Symposium; in 2018 Perry was chosen as a Gold Coast Commonwealth Games baton bearer; and in 2020 was appointed a member of the Order of Australia, for significant service to people living with a spinal cord injury and as a role model for the community.
Perry was interviewed for this week's video blog by Kelsey Chapman, The Dignity Project Research Lead.
To watch Perry's interview in full, click the video viewer link below or visit our YouTube Channel:
Read the Full Transcript for the video here
This video is accessible and has captions. To activate the captioning simply select the CC icon in the YouTube video player:
What does dignity mean to you?
Dignity to Perry means 'being worthy… and I guess, as someone with a spinal cord injury and high-level spinal cord injury, and a person with a disability – being worth while is a really important thing to think about, because... how do I say it? I guess we have to be worthy in our position in the community. If we're not worthy as people in the community, then what are we doing here you know? … I've seen a lot of change over [the] years, and when I was injured a long time ago… things like accessible transport, accessible housing, community accessibility in general, disability access, all those sorts of things, weren't very common – and it's improved over time. So, I guess I've seen the changes that make people feel more worthy, and more dignified.'
Perry said 'I think it's really important that people own [their] dignity… to believe that you're worthy – you have to believe that you're worthwhile, and if you don't believe it... then you don't allow other people to believe it... and I think that would be my key message. You have to have the boldness and the bravado, and the braveness, and the courage, and the self-belief, and the resilience... and all these things in your armour when you leave the front door in the morning.'
'You can enter the community with pride and respect – because if you don't have it... then you won't get treated with it – and I think that's it's unfortunate as it is. But that's one lesson that I've learned in my time, is that if I don't have the self confidence and self-belief – then other people won't have the belief and the confidence in me – so that would be my message to people out there that may be looking for something. It's by all means possible to achieve what you're doing – but you have to have that in your armour!"
View the interview here: https://lnkd.in/gDEFy8uC
To read the rest of this blog and others in full, visit The Dignity Project and join the Community Hub, by clicking the button that says "Join the Community Hub": http://www.hopkinscentre.edu.au/the-dignity-project
Comments