The Hopkins Centre Meet and Mingle event - Tuesday 14th December 2021
Congratulations to The Hopkins Centre Award Winners for 2021
Early Career Researcher Award
This Award is for outstanding achievements as an early career researcher, in contributions to advancing The Hopkins Centre research programs and reputation as a leading disability and rehabilitation research centre.
Awarded to: David Borg
Reason: Since joining The Hopkins Centre as the TRaCE Research Fellow, David has been establishing himself as a methodologist across the areas of exercise science and statistics. As an Early Career Researcher, his most notable achievements include 26 publications, with almost all of these published in the highest ranked journals in sport science, rehabilitation, and physiology; and more recently a Griffith University Postdoctoral Fellowship. In addition to his valuable contribution to three longitudinal cohort studies, David has supported several other Hopkins and external projects with his statistical expertise and led his own project in the area of exercise and spinal cord injury. Congratulations David.
___________________________________________________________________________
Emerging Researcher Award
Awarded to: Katherine Cameron
Reason: This award acknowledges Kate's achievements and dedication, that she showed during her Hopkins Fellowship. This has now led her to enrol in a Masters of Philosophy to continue her research into management of vocational goals for people with cognitive-communication difficulties after acquired brain injury. She will be supervised under Hopkins member A/Prof Petrea Cornwall.
__________________________________________________________________________
Research Champion Award
Awarded to: Letitia Burridge
Reason: This Award goes to a staff or member who exhibits the values and objectives of The Hopkins Centre in their work and engagement with others.
This year the Award goes to Letty Burridge who has worked long hours to build the Nursing Masters Class Program with Alison New. (As Prof John Upham mentioned), this pilot Program has given nursing professionals the supported extension they were looking forward and has resulted in 6 research projects, a new grant, publication and 6 people commitment to high degree study. Letty has worked with Program partners - Nursing Professional Development Unit-Research (NPDU-R), Nursing Excellence Centre and the Executive Director Office for Nursing with professionalism and genuine commitment to building capacity of the Program and the People creating strong model that will continue. Letty is now developing a new Medical Rehabilitation Research Capacity Building Project also offering mentorship to medical staff keen to pursue or further develop their skills in clinical research.
___________________________________________________________________________
Research Translation Award
The annual Hopkins Centre Translational Research Award acknowledges the value of collaboration and productive interdisciplinary research links between practice, academia and industry, and the importance of research having translational potential. This Award recognises research and evaluation projects that demonstrate translational impact or have potential to translate into better practices, health service delivery, and ultimately, contribute to improving the wellbeing of people with complex health needs or lifelong disabling conditions.
Awarded to: Glenn Verner-Wren
Reason: Senior Physiotherapist, Glenn Verner Wren has led a clinical research study in response to challenges in SCI patient management on the Orthopaedics Ward. With increasing length of stay for patients with spinal cord injury in Orthopaedics care both patients and practitioners were seeking more integrated and specialised interventions. With the highly successful engagement and multiple levels across the organisation and a targeted approach to the research there was a rapid change in practice where joint Ward rounds involving SIU and Orthopaedics medical, allied health and nursing staff occur. The team are working closely with nursing staff developing clinical resources to increase knowledge and capacity of the Orthopaedics staff.
___________________________________________________________________________
Ambassador Award
Awarded to: Belinda Adams
Reason:
Belinda is very honoured to received this award and is thankful to The Hopkins Centre, especially Elizabeth Kendall who has provided her with wonderful opportunities to build programs such as Ballet for Brain Injury
Belinda wanted to acknowledge that the development of the program was a team effort, with strong collaborations between Queensland Ballet, Griffith University, and Citrine Sun Entertainment
This program runs every Saturday at Qld Ballet
The next steps for this Project are a new partnerships with a Rehabilitation Clinic and PhD student, where a case studies will be develop to further the evidence needed for clinical trials.
Belinda apologies for not making it tonight. She has been part of the art department in a film crew making a movie with George Clooney and Julia Robertson on Hamilton Is. Her next endeavour in this field is a documentary series about carers and their stories
______________________________________________________________________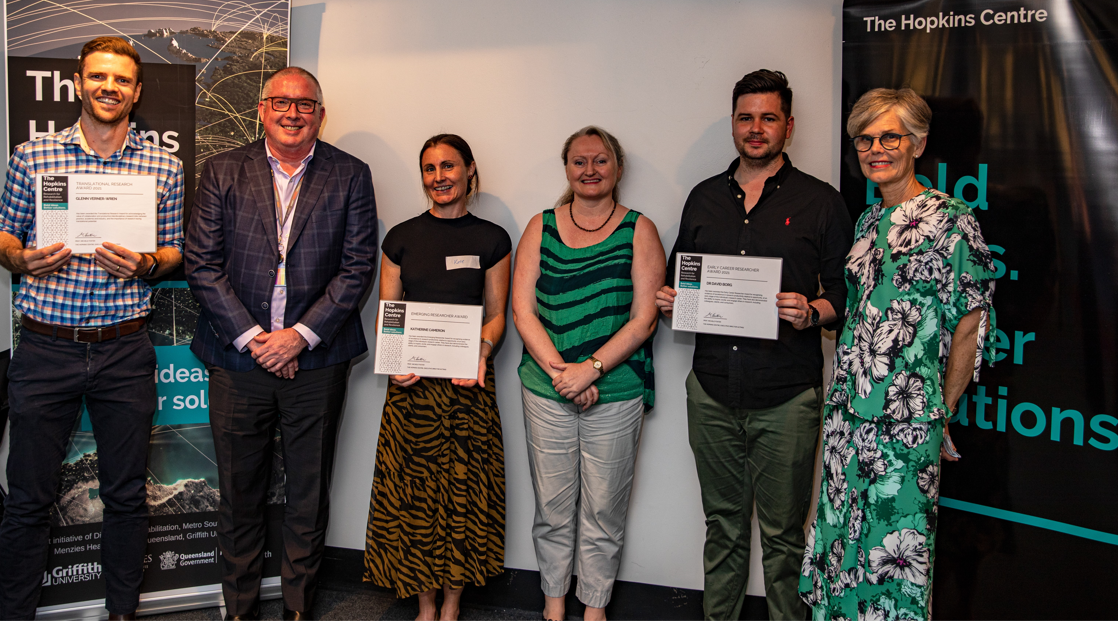 Comments