Lesley Chenoweth AO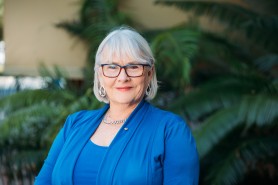 Professor Emeritus, Griffith University
Lesley Chenoweth AO is Professor Emeritus at Griffith University. She was the former ProVice Chancellor of Logan Campus and the inaugural Professor of Social Work at Griffith. She has been a social work academic, researcher and activist in the disability sector for many decades. Lesley has a distinguished reputation in widening participation in higher education in the disadvantaged communities. The theme of addressing social and economic inequalities has strongly underpinned and continues to influence her work even into retirement. In 2015 Lesley was made an Officer of the Order of Australia (AO) for her distinguished service to higher education, particularly in the area of social work, as an academic and administrator, and as a leading supporter of people living with disabilities. She was one of the Australian Financial Review/ Westpac 100 Women of Influence in 2015 and winner of the Local /Regional Category.
Lesley's current work has focused on the impact of the NDIS for families, innovations in housing and what constitutes good support in self direction.
Publications 2016-2017
Jervis-Tracey, P., McAuliffe, D., Klieve, H., Chenoweth, L., O'Connor, B., & Stehlik, D. (2016). Negotiated policy spaces: identifying tensions for rural professionals in delivering their statutory responsibilities. Journal of Rural Studies, 45, 123-133.
McAuliffe, D., Tilbury, C., Chenoweth, L., Stehlik, D., Struthers, K., Aitchison, R. (2016). (Re) Valuing Relationships in Child protection practice. Journal of Social Work Practice, 1-13.
Hall, G., Boddy, J., Chenoweth, L. (2016). An adventurous journey: Social workes guiding customer service workers on the welfare frontline. Aoteara New Zealand Social Work, 28 (3), 26-36.
Chenoweth, L. (2016). The road behind and the journey ahead: Travels in epistemology. Qualitative Social Work, 15 (5), 736-747.