Petrea Cornwell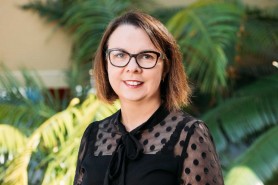 Griffith University, School of Allied Health Science
Petrea is a speech pathologist with research and clinical expertise in the areas of neurogenic communication and swallowing disorders, and interdisciplinary rehabilitation.
Her current research interests broadly span two areas:
1. Cognitive-communication disorders after brain injury
2. Improved rehabilitation outcomes through interdisciplinary models of care
Petrea worked clinically as a speech pathologist across a range of settings beginning with a joint Education-Health appointment in South West Queensland before moving to work exclusively in adult acute and rehabilitation settings.Patrea's positions have seen her work throughout the state of Queensland and in Northern NSW, working in rural, remote and metropolitan settings.
Inspiration for Petrea's work is due to seeing the research findings being used in the clinical setting with a view to improving the lives of people with brain injuries, communication and swallowing disorders, and their family and friends. Taking on the challenge to answer the "difficult questions" that arise in the clinical practice in order to advance the field of rehabilitation. The teams of researchers, clinicians and clients that I work in order to make even the smallest of change in someone else' life.