ARC Adjudicating Rights for a Sustainable National Disability Insurance Scheme
About the Project
The Australian Government currently faces a significant dilemma about how to allocate limited resources in a way that ensures the rights and entitlements of all Australians. Scheme officials and personnel urgently require clarity and consistency to improve their decision-making. Citizens with a disability, particularly those without advocacy support, require assurances that their rights are safeguarded within the Scheme. By enhancing the visibility and transparency of decision-making processes and priorities, and promoting informed public discussion, this project will contribute to making the National Disability Insurance Scheme a fair and sustainable scheme, and an international exemplar.
This project will highlight the power and justice effects of the administration of the NDIS, including what principles and values serve as dominant justifications for reasonable and necessary support, areas of contestation with choice and control, and the discrepancies in how administrative justice is viewed. This study involves three phases over three years (2020-2023) and employs a multidisciplinary, translational design incorporating analysis of social, policy and legal frameworks, qualitative interviews, analysis of administrative data and qualitative case study methods to develop both a broad national understanding of dominant frames surrounding the administrative justice decisions and concepts of justice; and a more nuanced understanding of administrative justice as experienced by participants.
The findings will contribute to a better understanding of which participants the NDIS is failing and contribute to a critical debate about the values guiding funded support decisions and fairness outcomes.
This project is funded by a three year Australian Research Council Discovery Program Grant (DP2001100742).



Click here to download Project Flyer
Policy Briefs
Policy Options: ARC Discovery Project: Adjudicating Rights in the NDIS

Click here to download this policy brief.
NDIS Decision-Making Workshop
In order to foster critical dialogue with key stakeholders, the ARC Adjudicating Rights research team convened a one-day workshop in Brisbane with invited speakers and panel discussions (details below). The workshop was an opportunity to explore and discuss:
1. The current state of decision-making in review and appeal processes for NDIS reasonable and necessary funded supports; and,
2. Key policy priorities and reform opportunities to ensure review and appeal decisions are administratively just, rights-based and deliver justice in both outcome and process.
The research team also circulated a policy options document based on four key findings from interview data.

View a summary of the decision-making workshop here.

Project Outputs - Submissions
Click the below submissions to view:
View the launch of the ARC Discovery Project on 10th March 2021, on Deciding Fair NDIS Rights:

Project Team
Prof Michele Foster (CI), The Hopkins Centre
A/Prof Kylie Burns (CI), Griffith Law School
A/Prof Susan Harris Rimmer (CI), Griffith Law School
Dr Eloise Hummell (RF), The Hopkins Centre
Participate in this research - Adjudicating Rights for a Sustainable National Disability Insurance Scheme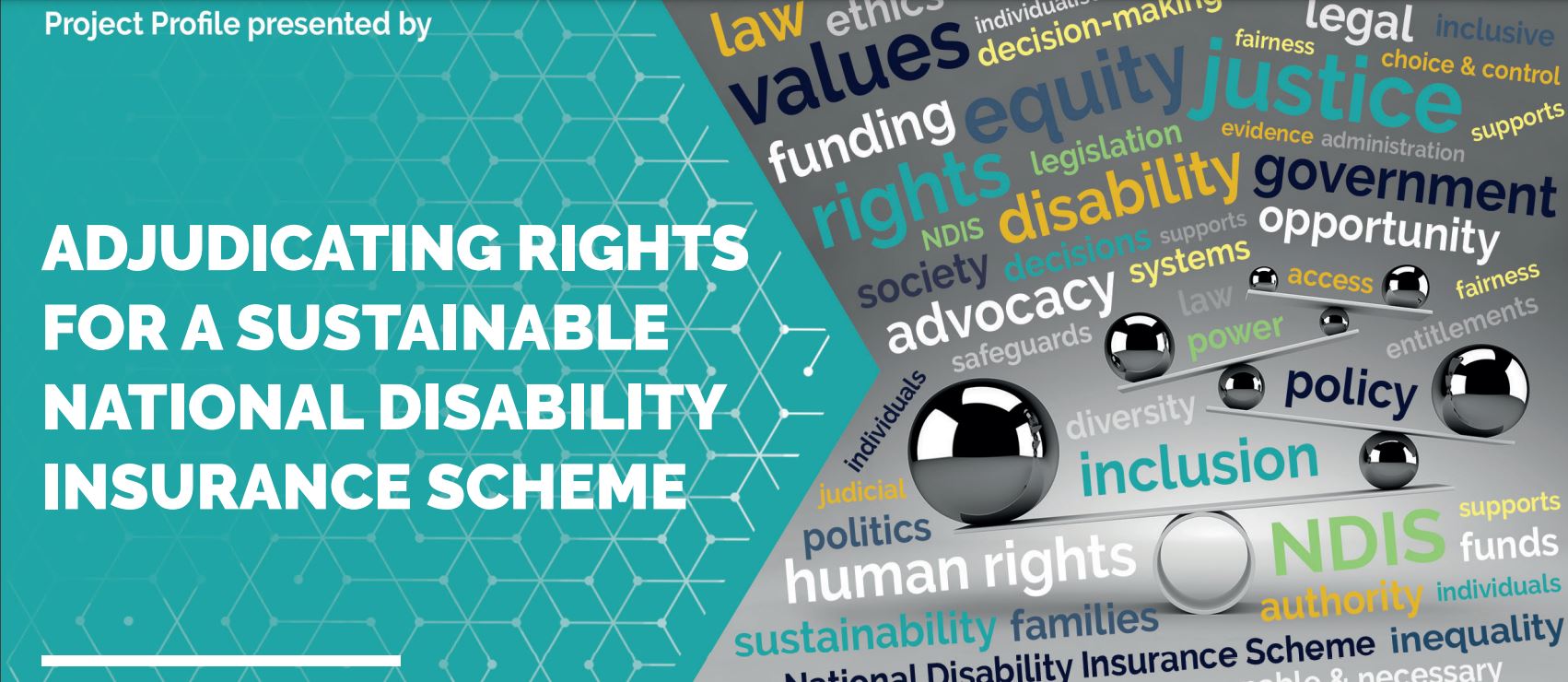 AGED 18+ and live in Greater Brisbane or North Queensland
Do you have a NDIS funded plan?
Have you requested an internal review or AAT appeal of your plan
If you answered YES, and you received a decision from the review or appeal within the past 2 years, we'd like to hear about your experiences.
Participation will involve an interview (in-person, online or via phone) of 45-60 minutes with a member of the research team. You will be asked about your experiences of planning processes, expressing your support needs and what the important aspects in claiming these supports were.
We are interested to know your thoughts on fairness around the processes and outcomes to contribute to a more transparent and equitable NDIS.
Interview participants will receive a $50 gift card.
If you would like to find out more, please register your interest here or contact Dr Eloise Hummell on e.hummell@griffith.edu.au or 0404 459 894.
Griffith University ethics approval (GU 2020/137)
---
View All Researchers
Researchers

Professor and Deputy Director