Supporting ethical inclusion of people with acquired disability in research: consumer informed approaches
About the Project
This research project aims to establish best-practice resources in engaging and completing research with people with an acquired disability and volunerable populations for better research outcomes via the following methods:
Explore peer reviewed and grey literature to articulate actionable strategies for optimum engagement of vulnerable people in health related research projects;
Explore recent research engagement experiences of people with an acquired disability;
Compare and contrast literature derived strategies with consumer experience; and
Co-design and co-produce practical information guides for consumers and researchers regarding the inclusion of vulnerable people in research.

This project will benefit researchers with better strategies to include people with acquired disability in all aspects of research, as well as the human rights of people with acquired disability being upheld by ensuring their voice is more consistently included in research planning and conduct. The deliverables from this project will also inform the decision-making processes of research ethics committees nationally and regionally.
This research is important in meeting project aims and supporting the basic human rights of people with acquired disability to optimally engage in research. As well as finding ways to include a population that is more often than not marginalised and vulnerable in research by developing research engagement strategies that go beyond tokenistic approaches. Furthermore, this research focuses on finding practical strategies for ensuring that the voice of people with acquired disability can be robustly included in best practice guidelines. Consumer engaged research is of national priority for the NHMRC and ARC as well as with State and Local funding bodies. There are real opportunities to inform policy through the findings of this project. Through greater evidence about ethically sound ways to engage consumers stronger policy positions and practice methods can be developled. Engaging consumers in research results in better research that is more applicable for the consumer.
A consumer reference group has been recruited and they have been engaged on the study protocol to help with ethics submission. The survey has been co-designed, and currently the project is in data collection phase.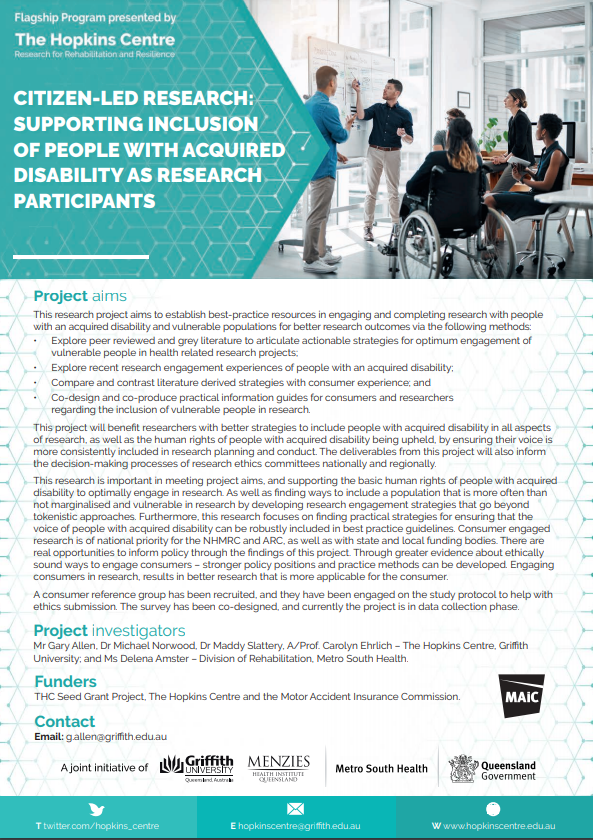 ---
View All Researchers
Researchers