Creating systems that increase dignified experiences for people with disability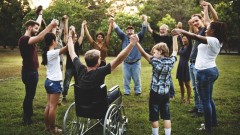 Published 12th July 2022
Citation: Chapman, K., Ehrlich, C., Dixon, A., Cocks, K., and Kendall, E. (2022). Creating systems that increase dignified experiences for people with disability. Industry Report. Southport: Hopkins Centre.
This resource was developed for policymakers, system and service managers who have an interest in ensuring that the systems and services that they design and manage promote dignified experiences for people with disability. The Hopkins Centre has undertaken a suite of projects within the Dignity Project flagship program to understand what dignity means for people with disability and how to ensure that people with disability have dignified experiences
in their interactions with mainstream services and systems. The appendices
contain details and key achievements of each of the 4 studies.
Published by
The Hopkins Centre, Griffith University
1 University Drive, Southport, QLD 4215
www.hopkinscentre.edu.au
© Hopkins Centre 2022
Authors

Professor and Executive Director

Click the download button to instantly download the publication.
Publication Type
Journal Article
---
Back to Project