Preserving the inclusive mindset of children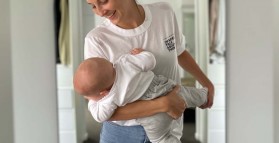 This week's The Hopkins Centre Dignity Project blog 'Preserving the inclusive mindset of children' is in honour of all the "mothers", guardians and supporters.
To celebrate this special day, our Dignity Project team Kelsey Chapman, Jo Kek-Pamenter & Angel Dixion OAM (pictured) has shared some of their experiences with mothers or motherhood and how to preserve and harness children's inclusive nature.

Our children are born with the ability to accept others as they are. They are not born with pre-conceived notions or prejudices or even the language of difference. This is what we as parents, guardians and community members instil in them and show them.

In order to be truly inclusive, we need to nurture that intuitive acceptance more in our children. We need to be more deliberate in exposing them to a diverse range of people, cultures, and experiences. We need more books and toys in our homes that represent people different to us. We need to choose child-care centres and schools that are more diverse and welcoming.
When children have the opportunity to experience people with disability, they don't think too much about it and once they understand impairment and disability, it informs their behaviour for the rest of their lives. Thus, if you are taught to fully understand and consider a range of disability and impairment, and are genuine and empathetic about supporting everyone's needs, then you know how to work to overcome any inherent challenges, and everyone's needs would be naturally considered and catered for, creating a more inclusive world.

This is not just true for children of people with disability, it is the crux of co-design and inclusion itself. When environments and systems remove the barriers that divide us and attitudes change, when we all have the opportunity to experience each other and share in experiences together, exclusion will be a distant but important memory.

To read the blog, join the Community Hub & continue the discussion https://bit.ly/3qxB2ZR
Tags: Dignity Project, Children, Accept, Motherhood, Mothers, Community
Related Articles
Comments