Valuing Home Mods
About the Project
Home modifications can provide value and value for money in a number of ways – from more measurable outcomes like a reduction in paid caregiving hours (which can pay back the cost of the modification many times over) - through to harder to quantify, but equally important domains, such as improved health, activity, participation, wellbeing, control, autonomy, dignity, safety and quality of life.
This project explores the definitions and uses of value and value for money from the perspectives of a range of stakeholders in the home modification process. Phase one has engaged with 20 Occupational Therapists (OT's) across Australia, to improve understandings of how these central concepts are being defined, measured and applied within their professional home modification practice.

Click here to download Project Flyer
Have you or your family modified, or are looking at modifying, your home?
If so, we want to hear from you: https://bit.ly/3lm1BRW
The Hopkins Centre is exploring what is valuable to people in home modifications. We are working to get a wide range of perspectives to build a clearer picture of what individuals, their families, and support networks value in a home modification. Your unique thoughts, experiences, and insights will help us to better understand this important area.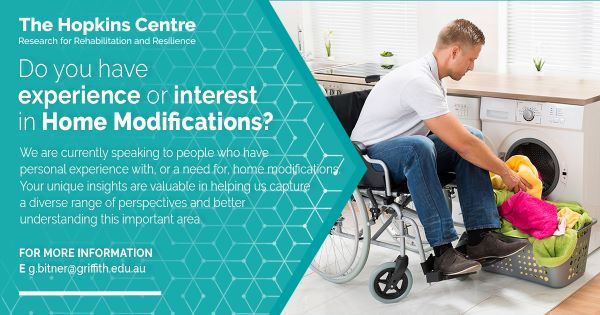 ---
View All Researchers
Researchers

Professor and Deputy Director