Guest Blog: Cathy Easte on of disability and accessibility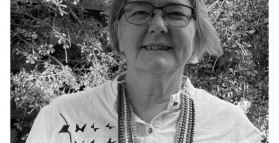 This week's Hopkins Centre Dignity Project Global Accessibility Awareness Week guest blog is Cathy Easte Manager, Student Disability and Accessibility at Griffith University and President, Australian Tertiary Education Network on Disability. She has written many guidelines on Accessibility in education settings, including as co-author on the ADCET Guideline – Supporting Deaf and Hard of Hearing Students Online.
A few years ago, my daughter was in ICU, one of the most worrying and traumatic times I have experienced as a parent. I could not phone the hospital and I could not enter the ICU unit without using a buzzer/intercom system that was totally inaccessible to me. Every time I walked in the door; I was already stressed, hoping that someone would let me in, as I could not hear anything said on the buzzer to know how to respond. I am deaf – and in these stressful situations it helps me to remember, that it is not about my 'inability' to communicate, but rather an inaccessible system. When others understand disability in that way, it shows respect to me, rather than treating me as less than whole.
Dignity to me means being treated with full respect, to be respected for who I am, what I believe in and how I live my life. To not be judged by the standards of others. I get told by both people that are Deaf, and those who are not, that I am either too Deaf or not Deaf enough. I have great speech, and many will not pick my deafness by my speech alone, thus it can mean they 'forget' I am deaf or even totally dismiss my needs. I did not grow up Deaf, and thus am not trying to say I am a native signing deaf individual – but it is with signing deaf that I can relax with communication the most. The majority of the Deaf community will, and do, accept me whole heartedly, but it does cut when I still hear the occasional – "well you are not really deaf" comment.
Accessibility is acknowledging differences in the planning – not everyone will do things in the same way you do them. Think about differences – captions, access points, responses – how do people reply and so forth. It is not hard to plan for accessibility. Accessibility does mean more when you have experienced inaccessibility – but don't assume everyone's experiences are the same, or that we are forever sorry we are different. I am not sorry I am Deaf; I have had hearing issues my entire life, it has made me who I am – not like you, but like me!'
Read Cathy's Guest Blog in the Dignity Community Hub, click here
If you are not a member of The Dignity Community Hub and would like to join, participate and read guest blogs, please click here to join.
Tags: Disability, Accessibility, Cathy Easte, Dignity Project, Moderator Corner, Guest Blog
Related Articles
Comments