Fitting providers together in your support puzzle
ONLINE FORUM:
Topic: Fitting providers together in your support puzzle
Details: Monday, 14 June 2021
Duration: 2 hours, 11.00am to 1.00pm (Brisbane time, AEST)
In collaboration with Queenslanders with Disability Network (QDN), The Hopkins Centre research team, will be hosting an online forum on Monday 14th June, about Fitting providers together in your National Disability Insurance Scheme (NDIS) support puzzle.
This event will focus on the perspective of participants and their families, and an advocacy view on experiences, challenges and good practices of managing funded supports with multiple providers. The forum is designed to hear from multiple perspectives on the topic, through a series of short presentations followed by break-out group discussions. Forum presentations and discussions will form the basis of key policy advocacy statements that pinpoint strengths and areas for improvement.
Come together to hear different views from people with disability, their families and advocates. Share your experiences managing your supports from many providers, to help shape solutions and ensure quality and safety in provision of your supports. Let's work together for a better working NDIS.
We are very pleased to announce the forum speakers:

Karin Swift - Independent Consultant and Disability Advocate
Biography: Karin Swift has had an extensive career in the disability, advocacy and social policy space where she is committed to people with disability living valued lives in the community. Karin has represented the Australian Government and Women with Disabilities Australia at the United Nations, New York, providing high level, strategic advice on women with disability and violence. Karin has also led training training and been a keynote speaker for Women With Disability Australia in Indonesia and South Korea on gender and disability and the elimination of violence. Karin previously worked at Queenslanders with Disability Network in various roles and provided strategic high-level advice and analysis on many contemporary disability issues and other social policies including: human rights, gender issues, the National Disability Insurance Scheme (NDIS), the Disability Royal Commission, housing, welfare reform and employment. Karin currently works as an independent consultant providing advice and giving presentations on a number of disability social policy issues.
Sue Tape - Children and Young People with Disability Australia
Biography: Sue Tape is coordinating CYDA's project work focused on building the capacity of families of children with disability to enact their child's right to inclusive education. Sue's previous career experience is in auditing, design and implementation of learning and development. Sue is now using her career experience in building an inclusive local community around her family. Sue is excited about the opportunities to share her family's story, connect with other families and be a force for change.

Paige Armstrong - Queensland with Disability Network
Biography: Paige has been Chief Executive Officer of QDN since October 2013. Paige has a strong commitment to social justice, and the empowerment and inclusion of people with disability as active citizens in their communities. With over 25 years in the disability sector Paige brings a wealth of knowledge and experience. She has previously worked with Health Consumers Queensland, the Endeavour Foundation, Queensland Health, Spinal Injuries Association, Centacare, and the Department of Communities, Child Safety and Disability Services
Event Program:
Introduction, welcome and housekeeping
Acknowledgement of Country
Official Introduction – Fran Vickery, Queensland State Director, NDIS Quality and Safeguards Commission
Setting the research project scene – Prof. Michele Foster, The Hopkins Centre
Perspectives from an NDIS participant – Karin Swift
Perspectives from a family member of an NDIS participant – Sue Tape
Perspectives from an advocacy organisation – Paige Armstrong, CEO, QDN
Panel Questions and Answers - Karin Swift, Sue Tape, and Paige Armstrong
Break in program
Welcome back – Prof. Michele Foster, The Hopkins Centre
Breakout Rooms – Participant discussion in breakout rooms
Feedback from breakout rooms
Close


All registered attendees will receive the zoom meeting link, access instructions and program via email before the event.
For more information about this event, contact: hopkinscentre@griffith.edu.au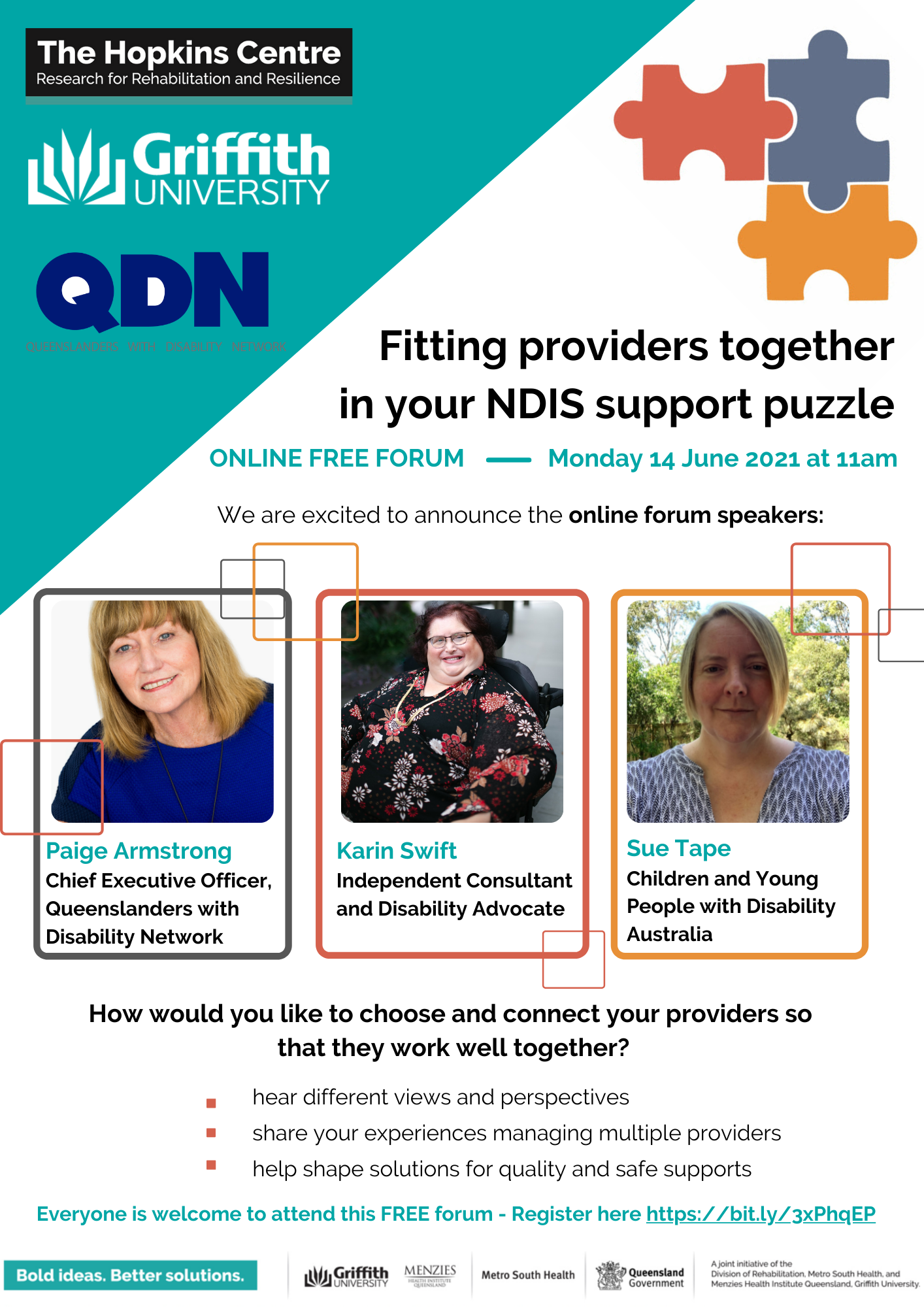 Click here to register to attend the second forum event date on Monday 21 June 2021: https://zoom.us/meeting/register/tJIvdeGuqDkoHNMomxWrc5g99deNR8YrwoKZ
For more information on the research project informing this forum, go to https://www.hopkinscentre.edu.au/project/making-complex-interfaces-work-for-the-national-86
The Research:
Fitting multiple supports together in an NDIS funded package can be challenging because of many providers involved and the different systems from where supports derive. These are the complex interfaces of individualised funding support. What we also know is that there are good examples of how to do this well such that everyone is working together in a safe and quality manner. Researchers at The Hopkins Centre, Griffith University, University of New South Wales and the University of Birmingham in the UK have been investigating the experiences of organisations, frontline personnel, participants and families about the provision and coordination of individualised funded supports in the NDIS. A key outcome of the research is to know about best practices of provision and management of disability support at the local level and what helps to avoid problems of quality and safety.
The key messages from the research included:
NDIS participants' increased choice of providers experienced as a positive to tailor supports, while managing numerous different providers was a challenge.
Lack of effective communication and information sharing between providers, NDIS participants and families, and government agencies created confusion of roles and responsibilities.
Managers expressed concern that providing part of the plan but not seeing the whole plan obscured responsibilities and critical interdependencies amongst providers.
Good locally-based coordination of supports using trusted networks and relationships, often difficult to maintain with lack of funding specific to multiple stakeholder engagement.
Support coordination role seen by many as a "safety net" for NDIS participants, dependent on appropriate skills and expertise to navigate multiple services, systems and sectors.
By focusing on the topic of fitting together a funded support package with multiple providers, the objective is to come up with good examples and recommendations for the NDIA and government about ensuring quality and safety for NDIS participants and families.
This event is being conducted in line with research that is funded by the Australian Government through the Australian Research Council.
Tags: QDN, Disability, Online Forum, NDIS
Related Articles
Comments