Our research streams are a mechanism for clustering clinicians and academics around important aspects of service delivery and rehabilitation practice. They support the development of synergies across streams by deliberately highlighting the intersections between services, practices, workforces, consumers, environments and families.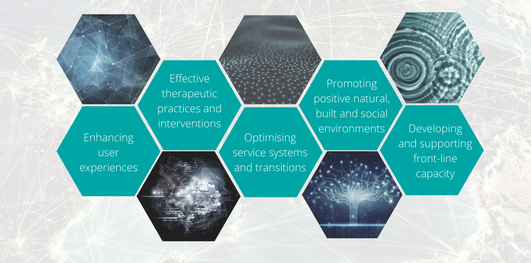 The core streams are:
Optimising service systems and transitions
Developing and translating therapeutic practices and technologies
Enhancing service user experiences and promoting engagement
Building workforce and frontline capacity
Promoting positive environments
Two emerging areas are:
Responding to Diversity and Cultural Context
This stream aims to understand the impact of culture, minority status, language barriers and other culturally defined challenges for the rehabilitation system with a view to improving the capacity of the system to respond and the ability of end-users to engage effectively to maximise outcomes.
Early Intervention for Lifelong Wellbeing
This stream focuses on the ways in which we can prevent deterioration, long-term disability or developmental delay by intervening early and intensively. It focuses on both clinical and social interventions that can improve outcomes for people with disabilities or at risk of significant disablement.
---