Acknowledgement of Country
We acknowledge the traditional custodians of this land. We respect and are grateful for the wisdom of the Elders – past, present, and future, for their dedication to their communities, for preserving the knowledge and for sharing the memories, the traditions, and the culture of this land. We honour those who fought for, and continue to fight for, the rights of First Peoples. We thank them for the gift of their unique country and apologise for all wrongs inflicted on them in the past. We thank them for the opportunity to move forward in the spirit of reconciliation.
"Unfinished Journey"
By Lauraine Barlow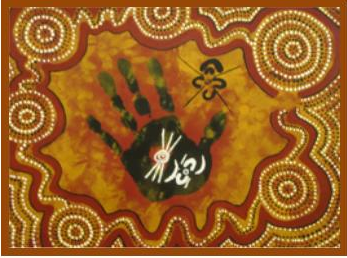 This painting is the story of the Indigenous Women's Forum, held in Hawaii, sponsored by Griffith University and the Women's International Leadership Institute, titled "Indigenous Ways Of Knowing: Women As Researchers And Partners In Community-Based Disability And Rehabilitation Research".
The painting was completed to signify that the gathering had the blessing of Elders. The circles represent campsites – the dots are telling a story of places of significance in Lauraine's life journey – the road has not been an easy one to travel signified by the complex curves and convoluted paths, but it is a story worthy of recognition. Handprints represent ownership of health by Indigenous Australians.
The other symbols are of a meeting place or resting place. The hand is saying "stop and sit for a while – let me tell you my story" –the journey of health is never finished and will continue until the last dot touches the beginning again. The colours are earth colours to represent the strength of women working together.
The forum brought together women whose cultures and peoples have experienced similar colonization processes – women from United States (including Alaska and Hawaii), Canada, New Zealand, Asia, Africa and Australia – to unify the global voices of Indigenous women with disabilities.
"About The Artist"
Lauraine Barlow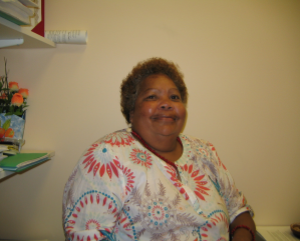 Lauraine is a descendant and elder of Mandingalpa Clan, Yidiny tribe and Kulla Kulla Clan, Lama Lama tribe in North Queensland. Her Aboriginal name is Jana-n Jigiddirri Jigiddirri, which means "standout willy wagtail". Recently, she was honoured with a third name, Buligud, which means Grandmother. Lauraine has struggled with chronic illnesses all her life and moved to Brisbane in 2000 to be closer to medical care. She is now a trained -leader of the Chronic Disease Self-Management Course and has helped hundreds of Indigenous women with illnesses and disabilities to regain their strength through Indigenous culture and cohesion. Lauraine recently featured in the International Indigenous women's forum about Indigenous Ways of Knowing and the video produced for Queensland Health called "Murri Women Yarning". Her written story has also been included in two books.
Lauraine's story, in its multiple forms, has inspired other Indigenous women with chronic conditions or disabilities to telling their stories, enlightening even more women about important issues. She has now completed her qualifications as an Indigenous Health Worker, has become a telephone counsellor and has been employed as a community health promotion consultant, where she "officially" uses her story to motivate people to engage in healthy lifestyles.
At the recent launch of her video, Lauraine stated, "I never thought my story was worth anything until one day when two lovely white researchers asked me to tell my story. We talked many times and I told my story—my story has helped people all over the world and now I tell my story all the time—my story is worth something and I've been telling it ever since".