Delena Amsters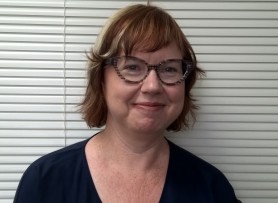 Delena is currently the Senior Research Officer with the Spinal Outreach Team in the Queensland Spinal Cord Injuries Service. She started her career as a rehabilitation physiotherapist and completed a research Masters degree in Physiotherapy. Delena has also had experience in project management, as a member of the development team for spinal cord injury outreach services in Queensland and on the community rehabilitation workforce project.
Her role as a research officer means she gets to guide and support clinicians as they undertake research, evaluation and service development activities, as well as undertaking her own service improvement research. This role has afforded her the opportunity to be involved in a broad array of research topics, many of which are transdisciplinary in nature. Delena is passionate about pursuing ways to deliver better rehabilitation services and believes that meaningful engagement with rehabilitation service users is fundamental to this objective.
As The Hopkins Centre research stream leader for Enhancing service user experience and engagement my objective is to promote the ethos of engagement in research and clinical practice. It is my firm belief that The Hopkins Centre will become a research centre that practices what it preaches, engaging meaningfully in all aspects of our operations, with those we aim to help.
Publications since 2016:
Amsters, D., Schuurs, S., Kuipers, P., & Kendall, M. (2016). The Person-Environment Profile: Preliminary Development of a Clinical Tool for Enhancing Goal-Based Rehabilitation Programs. Rehabilitation Process and Outcome, 5, 65. https://doi.org/10.4137/RPO.S40455
Amsters, D., Schuurs, S., Pershouse, K., Power, B., Harestad, Y., Kendall, M., & Kuipers, P. (2016). Factors Which Facilitate or Impede Interpersonal Interactions and Relationships after Spinal Cord Injury: A Scoping Review with Suggestions for Rehabilitation. Rehabilitation Research and Practice, 2016, 1–13. https://doi.org/10.1155/2016/9373786
Bundz, J., Schuurs, S., Kendall, M., & Amsters, D. (2016). What prompts nurses to seek help from wound care consultants in spinal cord injury management? Australian Journal of Advanced Nursing, 34(2), 6–15.
Carr, J. J., Kendall, M. B., Amsters, D. I., Pershouse, K. J., Kuipers, P., Buettner, P., & Barker, R. N. (2016). Community participation for individuals with spinal cord injury living in Queensland, Australia. Spinal Cord. https://doi.org/10.1038/sc.2016.169
Ward, E. C., Jarman, L., Cornwell, P. L., & Amsters, D. I. (2016). Impact of voice and communication deficits for individuals with cervical spinal cord injury living in the community. International Journal of Language & Communication Disorders, 51(5), 568–580. https://doi.org/10.1111/1460-6984.12232