Benefits of ABI TRS - Adults with severe ABI and their families
Acquired Brain Injury Transitional Rehabilitation Service (ABI TRS) provides adults with severe Acquired Brain Injury (ABI) and their families with a co-ordinated post-discharge clinical pathway. It improves access to intensive ABI rehabilitation, reduces hospital length of stay and contributes to long-term benefits for clients, families and the community. Since starting clinical service as a pilot project in 2017, ABI TRS is now an integral component of the continuum of specialist ABI services at PAH. Temporary service funding has been secured until 29 June 2022.
In August 2020, Tony Randall returned home, after sustaining a traumatic brain injury with support from ABI TRS. He said accessing therapy in his own home after discharge from BIRU had been essential to his recovery.
"I came home in a wheelchair and now I'm walking independently around my house and outside with a walker. I am also showering and toileting myself which I couldn't do when I first got home."
Prior to ABI TRS, people like Tony would have had a longer hospital stay and once discharged could not access such comprehensive rehabilitation programs. Tony's story is an example of how important continuous and specialised rehabilitation at home is for people with ABI."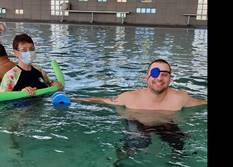 Image above: ABI TRS client Tony Randall (right) with ABI TRS physiotherapist (left) at the local pool.
Click dowload document below to view the latest newsletter.
Comments