Proud to be part of THC reaching their second year anniversary milestone
Although The Hopkins Centre is an extension of over 25 years of collaboration between Metro South Health, MAIC and Griffith University, this week marks our second official anniversary.
It's been two years since our launch by then Minister Cameron Dick at the Webb Centre, Southbank. The Centre has grown and evolved significantly since it's establishment. We now have a membership base of 298 academics, clinicians, practitioners in the community, citizens and students. We have 57 clinicians who are actively driving research projects. These projects are so important because they address real problems identified in practice and they will translate immediately into new solutions.
Research stream leaders have led over 27 knowledge translation events that have resulted in increased research capacity, confidence, and opportunities with members, partners and our Ambassadors. We have recently awarded the second clinical fellowships for THC and completed round four of our seeding grants. Over 20 quality projects have been funded through these seed grants and they are having a real impact. You will hear more about these innovative projects throughout the year here.
Our Ambassadors have also begun driving research, which is extremely important to our central focus on engaging people with disability in the development of solutions and services. Citizen-science is becoming more and more important to most areas of research and has always been critical to The Hopkins Centre. In 2019, this aspect of our centre will grow, so if you see an opportunity to enhance the capacity of our members with disability to engage in research, please contact The Hopkins Centre.
Our Affiliate Partners have grown to six, with the recent inclusion of RACQ. We are very pleased to partner with RACQ given its emphasis on its citizen members and their quality of life. We were surprised to learn that the grandfather of our namesake was the founding President of RACQ in 1905. Dr. George Herbert Hopkins was one of 10 emminent Brisbane citizens who wanted access to more reliable automobiles for transporting patients, giving birth to the RACQ automobile club of Queensland. We also joined with Gold Coast Health where the Board Chair's commitment to disability and better rehabilitation is very strong. We are also developing our active collaborations in other regions, such as Ipswich/West Moreton, which will expand our opportunity to learn from each other across the state.
The Hopkins Centre has only developed to this point because of the enthusiasm and commitment shown by all of you during the last two years. Thank you to all our members, foundation and affiliate partners, as well as associated collaborators for getting involved and supporting The Hopkins Centre.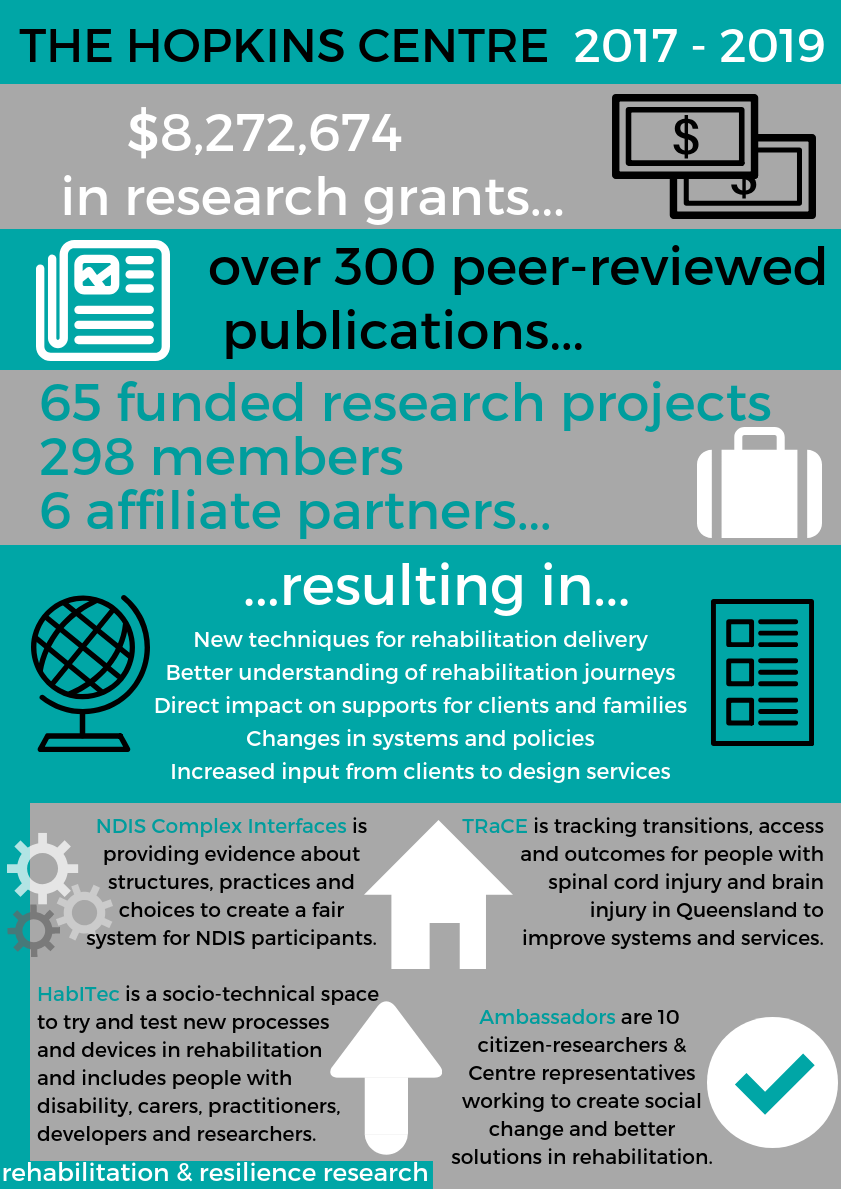 Comments