Marleen Westerveld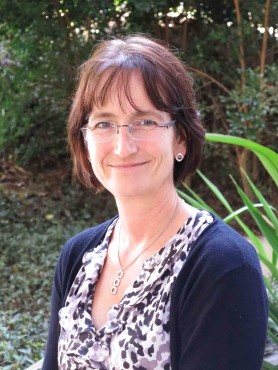 Dr Westerveld is a speech pathologist. Her research focuses on understanding the relationship between spoken and written language development and disorders from preschool to adolescence. Special interests include spontaneous language sampling and analysis, oral narrative development and intervention, emergent literacy development and disorders, and reading development and disorders. Current research projects include three Autism CRC - funded projects into the emergent and early literacy development of young children on the autism spectrum.Dr Westerveld has published more than 30 peer-reviewed articles, was a co-author of two recently released Speech Pathology Australia clinical guidelines in literacy and autism, and is currently the deputy chair of the Child Language Committee of the International Association of Logepedics and Phoniatrics. Since joining Griffith University in 2011, Dr Westerveld has been awarded $1.4 million in grants, CRC project funds, and consultancies.
Publications 2016-2017
Westerveld, M. F., Paynter, J., Trembath, D., Webster, A. A., Hodge, A. M., & Roberts, J. (2017). The emergent literacy skills of preschool children with autism spectrum disorder. Journal of Autism and Developmental Disorders, 47(2), 424-438. doi: 10.1007/s10803-016-2964-5
Westerveld, M. F., & Vidler, K. (2016). Spoken language samples of Australian children in conversation, narration and exposition. International Journal of Speech-Language Pathology, 1-11. doi: 10.3109/17549507.2016.1159332
Westerveld, M. F., Paynter, J., & Trembath, D. (2016). Reading instruction for children with ASD: Getting the story straight. Journal of Clinical Practice in Speech-Language Pathology, 18, 80-83.
Westerveld, M., & Barton, G. (2016). The phonological awareness skills of education and speech pathology higher education students during their first semester of study. Journal of Clinical Practice in Speech-Language Pathology, 18(2), 84 - 88.
Bishop, D. V. M., Snowling, M. J., Thompson, P. A., Greenhalgh, T., & CATALISE consortium, (2016). CATALISE: A Multinational and Multidisciplinary Delphi Consensus Study. Identifying Language Impairments in Children. PLoS ONE, 11(7), e0158753. doi: 10.1371/journal.pone.0158753
Howells, S., Barton, G., & Westerveld, M. F. (2016). Exploring the development of cultural awareness amongst post-graduate speech-language pathology students. International Journal of Speech-Language Pathology, 18(3), 259-271. doi: 10.3109/17549507.2016.1154982
Lennox, M., Westerveld, M. F., & Trembath, D. (2016). Evaluating the effectiveness of PrepSTART for promoting oral language and emergent literacy skills in disadvantaged preparatory students. International Journal of Speech-Language Pathology, 1-11. doi: 10.1080/17549507.2016.1229030
Paynter, J., Westerveld, M. F., & Trembath, D. (2016). Reading assessment in children with autism spectrum disorder. Journal of Psychologists and Counsellors in Schools, early online. doi: doi 10.1017/jgc.2016.15
Trembath, D., Westerveld, M., & Shellshear, L. (2016). Assessing Spoken Language Outcomes in Children with ASD: A Systematic Review. Current Developmental Disorders Reports, 3, 33-45. doi: 10.1007/s40474-016-0068-8
van Bysterveldt, A. K., & Westerveld, M. F. (2016). Children with Down syndrome sharing past personal event narratives with their teacher aides: A pilot study. International Journal of Disability, Development and Education. doi: 10.1080/1034912X.2016.1199850
Westerveld, M. F., Trembath, D., Shellshear, L., & Paynter, J. (2016). A systematic review of the literature on emergent literacy skills of preschool children with Autism Spectrum Disorder. The Journal of Special Education, 50(1), 37-48. doi: 10.1177/0022466915613593