Call for abstracts - Bold ideas, better solutions symposium 2017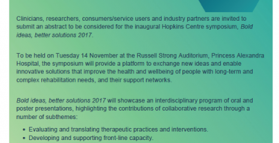 Abstract submission deadline extended to 12pm Monday 7 August.
Clinicians, researchers, consumers/service users and industry partners are invited to submit an abstract to be considered for the inaugural Hopkins Centre symposium, Bold ideas, better solutions 2017.
To be held on Tuesday 14 November at the Russell Strong Auditorium, Princess Alexandra Hospital, the symposium will provide a platform to exchange new ideas and enable innovative solutions that improve the health and wellbeing of people with long-term and complex rehabilitation needs, and their support networks.
Bold ideas, better solutions 2017 will showcase an interdisciplinary program of oral and poster presentations, highlighting the contributions of collaborative research through a number of subthemes:
Evaluating and translating therapeutic practices and interventions.
Developing and supporting front-line capacity.
Optimising service systems and transitions.
Enhancing service user experiences and engagement.
Promoting positive environments.
Awards
A judges' choice and people's choice award will be awarded to the best oral presentations and will be announced during closing remarks at Bold ideas, better solutions 2017.
Key dates
May Abstract submission opens
12pm 7 August Abstract submission deadline—extended! No further extensions
31 August Authors' notified
September Guidelines provided
14 November Bold ideas, better solutions 2017
Submit your abstract
Click here to submit your abstract. Submission guidelines, judging criteria and further information, please go to the symposium website here.
Comments