Hopkins Centre receives grant to help connect those with a disability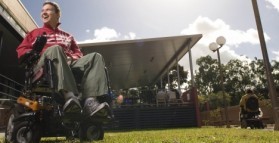 Metro South Health and Griffith University's Hopkins Centre has launched a citizen science project allowing people with disabilities to share their experiences and stories to improve the services that these people need and use.
The Dignity Project is a digital engagement platform where people with disabilities can share, reinterpret and analyse collective experiences by removing the physical and attitudinal barriers they may face.
Professor Tim Geraghty from the Division of Rehabilitation, Metro South Health and Griffith University's Hopkins Centre said the project would tell stories of dignity or inclusion and will result in recommendations for change that can improve future experiences of rehabilitation.
"We can easily overlook the voices of those who use our services – this project sets out to address that," Professor Geraghty said.
"Centre Patron, Kevin Cocks AM will guide the project with the help of the Ambassadors Council, 10 people who have a disability or are family members. The Council will provide research training and information for all citizens with disabilities, seeking their input as citizen scientists."
Hopkins Centre Director, Professor Elizabeth Kendall said the project's lead citizen scientist Angel Dixon was 2019 Queensland Young Australian of the Year.
"Angel will encourage people with disabilities to tell their stories and then mentor them to become citizen scientists themselves. Citizens can just add their stories to the platform, they can analyse the stories themselves to test their hypotheses or they can propose further research projects," Professor Kendall said.
"Initially, we will focus on people with acquired brain and spinal injury. Our partner, Microsoft Australia, is helping us to ensure that people can be easily connected with each other and that people with communication challenges can tell their stories.
"We are committed to hearing stories from rural and remote areas as well as First Nations people and those from a range of cultural backgrounds."
Minister for Environment and Science Leeanne Enoch announced that Metro South Hospital and Health Service had received a $30,000 Queensland Citizen Science Grant for The Hopkins Centre Dignity Project.
"This is an excellent project that seeks to improve the lives of people with disabilities by illuminating the physical and attitudinal barriers too many people with disabilities face," Ms Enoch said.
The project will run in partnership with key consumer disability organisations and large corporate companies.
Both Metro South Health and Princess Alexandra Hospital play an active role in the Hopkins Centre through our extensive work in the area of rehabilitation.
To find out more about the 21 citizen science projects, visit www.qld.gov.au/citizenscience
Comments