The ABI TRS Vocational Rehabilitation Framework - Translation and Implementation Workshop series
In collaboration with the Acquired Brain Injury Transitional Rehabilitation Service (ABI TRS), The Hopkins Centre is pleased to announce a two-workshop series on The ABI TRS Vocational Rehabilitation Framework.

This series will offer rehabilitation clinicians and health service providers information on the translation and implementation of the Vocational Rehabilitation Framework, presented by ABI TRS.

We are welcome registrations to this workshop series from rehabilitation clinicians and health service planners interested in vocational rehabilitation for adults with acquired brain injury. Register here.
The tools, resources, manual and framework shared at these workshops, will provide guidance, details and processes on how to translate and implement aspects of the framework and clinical tools into clinical practice in Queensland.

Event Details:
Dates:     Workshop one - Tuesday 15 November 2022, 10.00am - 12.00pm
           Workshop two - Tuesday 29 November 2022, 9.30am - 12.30pm
Venue:      In person at Griffith Southbank Campus, South Brisbane
Cost:       Free, attendees must be able to attend both workshops
Register:    Register your attendance here by 31st October 2022

Please see the below flyer for more information.

Participants will be notified in early November whether they have been successful in securing a place in the workshops. Additional details will be provided at this time.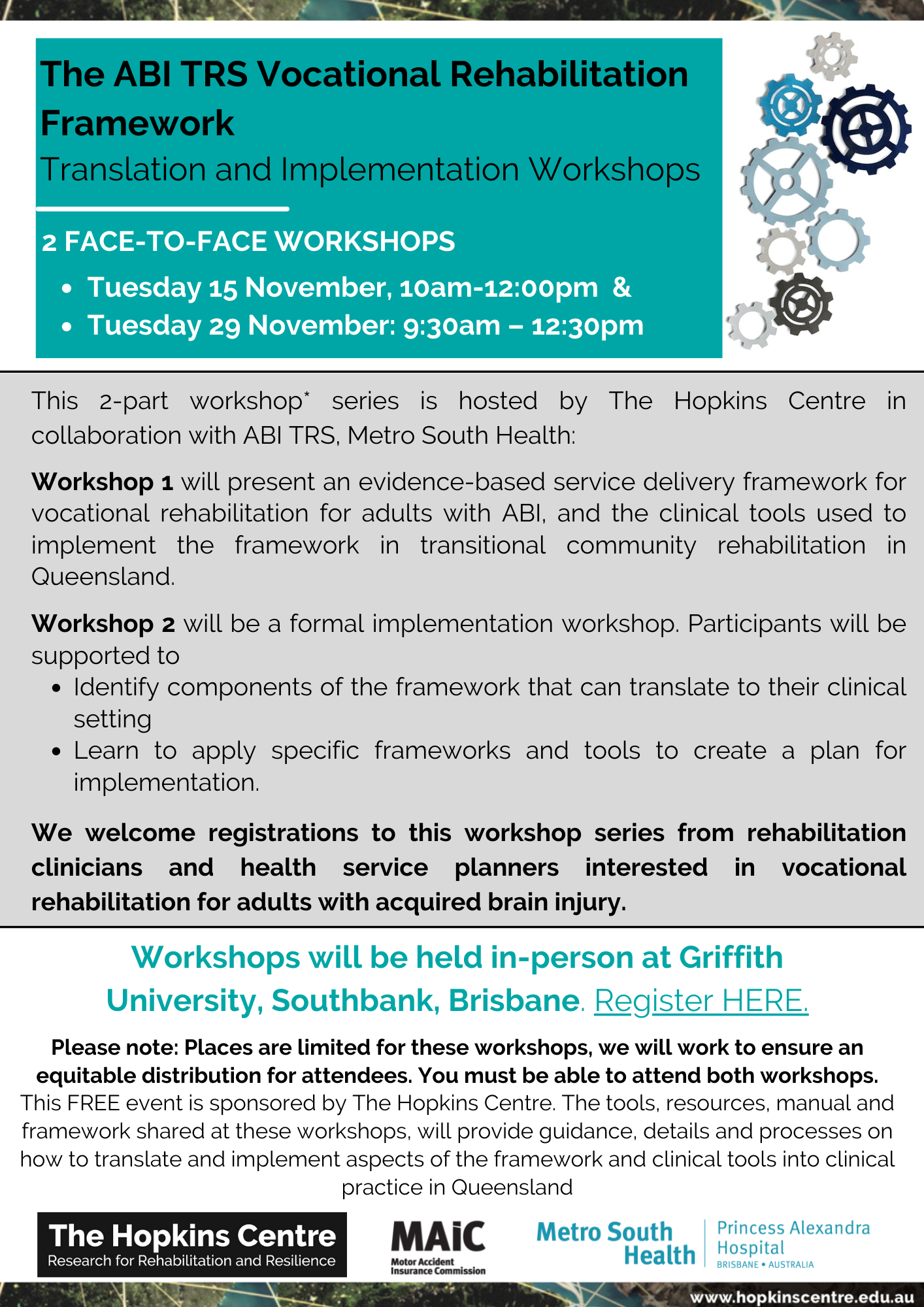 Tags: ABI TRS, ABI, Workshop, Seminar, THC, Hopkins
Related Articles
Comments