The Hopkins Centre In Focus Research Series on Resilience and Adaptation in Rehabilitation
Access to the event
This online event will be run through the vbrick digital enterprise platform. Please click on the online event link above to access the event. A window will appear allowing you to enter your name, email address and the event password, which is hopkins, into the password field. Make sure you consent to the capture of the information required, tick the check box as required and click sign in as guest.
Click here for a guide to attending a Vbrick event. To provides extra advice on accessing the online event, asking a question in the Q&A section and enabling closed captions.
If you have any technical issues, please email the Hopkins Centre at hopkinscentre@griffith.edu.au
REGISTER NOW for the remaining sessions two and three for the In Focus Research Series on 'Resilience and Adaptation in Rehabilitation'
Hear from health practitioners, clinicians, researchers and industry experts about the impact of pandemic events during 2020 on rehabilitation systems, services, connections and community.
Each research session will showcase a different perspective on disruption and adaptation in rehabilitation and designing resilient systems and responsive services, advancing technology, and creating adaptive practices and interventions for the future.
This is a FREE event for everyone to attend. We invite you to register to attend the full event series or an individual event session and hear more about Resilience and Adaptation in Rehabilitation. Registration is open for all sessions, by clicking on the links below.
Sesson one: Wednesday, 4 November 2020, from 1.30pm to 3.00pm AEST
Practitioners' perspectives on system and service disruption across the continuum of care.
Click here to view session recording.
Session two: Wednesday, 18 November 2020, from 1.30pm to 3.30pm AEST
This session highlights the citizen focus on resilience, rights, and consumer centred community during system disruption.
Speakers:
- Mr Kevin Cocks AM DUniv, Patron for The Hopkins Centre and Executive General Manager Integrated Accessible Transport Network, Department of Transport and Main Roads
- Ms Michelle Moss, Director, Policy and Strategic Engagement at Queenslanders with Disability Network
- Ms Kelsey Chapman, Research Fellow and PhD Candidate, The Hopkins Centre
- Mr Col Mackereth, Peer Support Leader at Spinal Life Australia, Motivational Speaker, Thought Mentor and Bestselling Author
- Dr David Roland, Writer, Speaker and Psychologist
- Dr Kara Burns, Adjunct Research Fellow, The Hopkins Centre
- Mr Justin Hua, Citizen Research and Ambassador, The Hopkins Centre
Click here to download session program.
DON'T MISS OUT, REGISTER NOW, for session two on Wednesday 18 November 2020 at 1.30pm.
Session three: Wednesday, 2 December 2020, from 1.30pm to 3.00pm AEST
Panel Discussion with experts, advocates and future thinkers on a new generation and vision for rehabilitation and what inclusive, adaptable and resilient rehabilitation systems could look like into the future.
Speakers:
- Professor John Olver, AM, MB, BS, M.D. (Melb), FAFRM (RACP), Consultant Physician in Rehabilitation Medicine and Professor in Rehabilitation Medicine in the Department of Medicine at Monash University
- Professor Phillip Morris, Adjunct Professor at the Queensland University of Technology's Institute of Health and Biomedical Innovation
- Dr Elissa Farrow, Rehabilitation Specialist
- Associate Professor Libby Callaway, Monash University Occupational Therapy Department and Rehabilitation
Panel Moderator
- Morris Miselowski, Global Business Futurist, Presenter and Foresight Strategist
Click here to download session program.
DON'T MISS OUT, REGISTER NOW, for session three on Wednesday 2 December 2020 at 1.30pm.

Thank you for your support of The Hopkins Centre research series. We look forward to seeing you at each research series event session. Any queries, please email the hopkinscentre@griffith.edu.au and the research support group will assist you.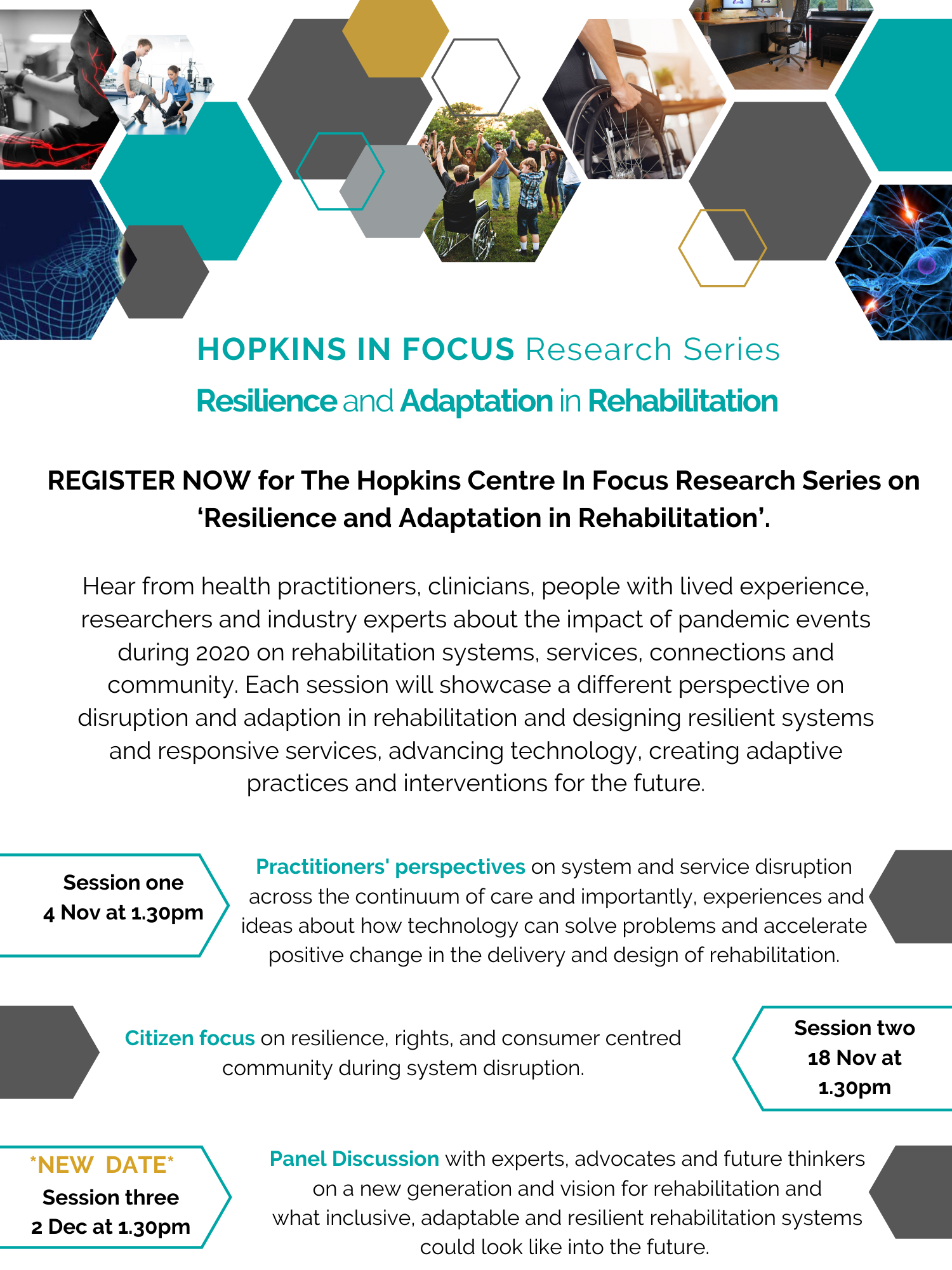 Comments