Tim Geraghty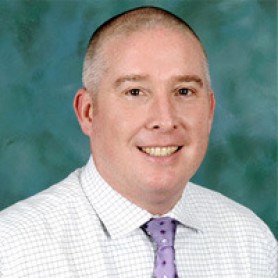 Rehabilitation Medicine Physician and Medical Director, Department of Rehabilitation, Princess Alexandra Hospital, Metro South Health, and
Co-Director The Hopkins Centre.
Career Profile
Tim Geraghty is a Rehabilitation Medicine Physician and Medical Chair, Division of Rehabilitation (DoR), Princess Alexandra Hospital (PAH), Metro South Health (MSH). He received a Fellowship in the Australasian Faculty of Rehabilitation Medicine (Royal Australasian College of Physicians) in 1997. He has been a Staff Specialist in the Queensland Spinal Cord Injuries Service (QSCIS) for 20 years and was the Director from 1999-2009. In 2005, he was instrumental in the establishment of the DoR and remains Medical Chair. He received an academic title of Professor from Griffith University in 2014 and has been Deputy Director and current Co-Director of The Hopkins Centre: Research for Rehabilitation and Resilience since June 2022.
Other significant previous experience includes roles as Acting Deputy Director Medical Services, PAH; Acting Director of Research, MSH; President, Australasian Faculty of Rehabilitation Medicine (AFRM), Royal Australasian College of Physicians; Chair of the AFRM Policy and Advocacy and Education Committees' and President, Australia and New Zealand Spinal Cord Injury Society (ANZSCoS). He was also the inaugural Co-Chair of the Queensland Statewide Rehabilitation Clinical Network and has a keen interest in strategic planning and service development in rehabilitation medicine and rehabilitation services with the ultimate aim of improving provision of services for people with a disability.
Research Expertise
In 1997, Tim undertook the role of Research Fellow in the Royal North Shore Hospital (RNSH), Spinal Injuries Unit (SIU), Sydney while completing his Fellowship with the AFRM. In 1998, he worked again as part-time Clinical/Research Fellow in the RNSH SIU. Since returning to Brisbane in 1999 he has consistently participated in research activities, published and sought to expand his research skills and opportunities as well as promoting research within the Division of Rehabilitation and more broadly in rehabilitation. While Director of the Spinal Injuries Unit (SIU), he pioneered participation in several national and multi-national clinical pharma trials - a first for the unit at that time and was Chief Investigator (CI), with Professor Alan Mackay-Sim, in the collaboration between spinal cord injury (SCI) clinicians at PAH and basic scientists at Griffith University which led to one of the first human trials of olfactory ensheathing cells.
From a capacity building and translational perspective, he was instrumental in establishing the QSCIS and DoR Research Symposia - to bring local researchers together and promote evidence-based practice and research participation. Since 2017, these small symposia have transformed into The Hopkins Centre Symposium: Bold Ideas, Better Solutions. He established a local Research Collaborative to enhance inter-disciplinary research capacity which in 2015 culminated in the establishment of a Professorial position––a joint initiative with Griffith University and Motor Accident Insurance Commission (MAIC) and following this was instrumental in establishing The Hopkins Centre in 2017.
Dr Geraghty undertakes research across a range of areas including rehabilitation medicine and rehabilitation, spinal cord injury, acquired brain injury, disability, health and rehabilitation services and has been a co-investigator on national and international spinal cord injury research projects involving sleep, physical activity, acute SCI management and is co-author on a national position statement on exercise and SCI. Recent research focus through The Hopkins Centre has included rehabilitation trajectories, transitions and service access and the impact on outcomes for people with ABI and SCI, the Australian arm of the International SCI Community Survey, Research capacity building needs of medical officers in rehabilitation services, technology-enabled rehabilitation and delays in discharge from inpatient rehabilitation including related to the implementation of the National Disability Insurance Scheme (NDIS).
Dr Tim Geraghty, Senior Staff Specialist, Spinal Injuries Unit and Medical Chair of the Division of Rehabilitation at the Princess Alexandra Hospital shares his story: