Rehabilitation has no expiry date: The Hopkins Centre Ambassador, Michelle Owen's story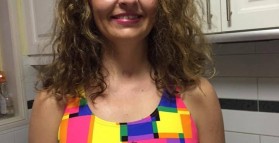 Story reloaded from NIISQ newsletter for brain injury awareness.

Our brains control almost everything we do, think and say, so an injury to the brain has the potential to affect any aspect of one's life. Injury-related changes in thinking, learning and behavior are often hard for people to recognize and understand; hence brain injury is often referred to as the 'invisible disability'. However, being invisible does not mean it is something we should ignore. According to the Australian Bureau of Statistics, over 700,000 Australians have a brain injury meaning that its impact is anything but invisible. Further, three in every four people with a brain injury are aged 65 or under, with lots of living still to do.
No-one knows this better than the newest The Hopkins Centre (THC) Ambassador, Dr. Michelle Owens. The THC Ambassador Council reinforces the importance of the voice of people with disability in research. The Council consists of eight strong independent advocates and influential people who are experts in managing the impact of disability, the process of recovery and the art of living with disability in the community. Chaired by Dr. Mandy Nielsen, the Council provides guidance to THC's researchers, ensuring research is relevant and reflective of the important issues faced by people with a range of disabilities.
Nine years ago, Michelle Owens was a General Practitioner in Beaudesert. One rainy day, on her long drive to work, she swerved to miss something on the road and ended up in a devastating collision with a gum tree. She had a circumferential base of skull fracture, spent nine months in hospital and has devoted much of the last few years advocating for improved brain injury services. She has contributed to websites, Government Inquiries, and Commissions while continuing to raise her two children. She is now preparing to return to employment and hopes to work in a health-related field. Michelle's experience over the last decade has increased her compassion for other people and her conviction that therapy services must be delivered early and intensively to help people regain their abilities. Some years ago, Michelle described rehabilitation as "a lifelong task" and she still notices small improvements today. Her view fits entirely with the other Ambassador Council members who have endorsed the statement that "rehabilitation has no expiry date". They aim to use their positions as Ambassadors to promote long-term access to high quality rehabilitation.
One of THC's main research partners, Synapse, has been advocating for early intensive and sustained rehabilitation for over three decades. A peak organisation in brain injury, Synapse has focused on reconnecting the lives those affected by brain injury through advocacy, integrated and innovative services and community engagement. Research has always played an important role at Synapse, beginning in 1990 when the organisation invested in service system research that revealed the gaps in Queensland brain injury rehabilitation at the time. Synapse has continuously invested in research to drive its decision-making about brain injury services, including its assessment methods and accommodation services. Check out more about Synapse and their great services and support at http://synapse.org.au/. THC are looking forward to more exciting initiatives with Synapse in future.

Thanks to the strong partnership between Griffith University and MetroSouth Health Division of Rehabilitation, The Hopkins Centre is leading the way in interdisciplinary translational research in brain injury rehabilitation practices, services and systems. Our bold ideas can instantly translate into better solutions for people with disability. THC now has over 200 members and hundreds of active research projects, mostly focused on brain injury. Our projects cover a diverse range of topics including evidence-based frameworks for vocational rehabilitation, neuro-cognitive design of urban spaces, inclusive housing supports, conversation partner training, understanding the environmental determinants of sleep quality and the use of virtual reality to support sustained rehabilitation. THC researchers are constantly seeking improvements and new approaches that can become better solutions for people living with the impact of brain injury.
Tags: Rehabilitation, Ambassador, Michelle Owen
Related Articles
Comments