Christmas Meet and Mingle 2018 event
The Christmas Meet and Mingle was a lively event with 48 members, Ambassadors and collaborators participating in a fun night to celebrate the year's success, meet members of the Ambassador Council and announce the very popular seed and fellowship grants.
The night started with the opportunity to mingle and network. We heard from Mr Kevin Cocks AM, the Patron for the Centre on protecting the principles of dignity and equity for everyone and striving towards a more inclusive society for all. We are honoured and thankful to have his support and commitment in representing the Centre as Patron and co-leading the Ambassador Council through citizen-led research. Ambassador Council members were introduced their inspiring film titled a 'Passion for Change' was shown much to the appreciation of all who attended. The film depicts journies of recovery, rehabilitation and explains how the Council members want to make a difference in the way society thinks about disability and how the views of people with disability can drive bold solutions through better engagement in research.
Deputy Director Tim Geraghty spoke about the Centre's many amazing achievements for 2018, with member numbers growing by nearly 100 in 2018. Highlights of 2018 included:
Establishment our Councils and Committees
Delivering on our Partner Centre Funding and exceeding contractual requirements
Grew our Research Capacity & Confidence with Nursing Masterclass to strengthen frontline research
Set up and awarded the first round of Clinician Fellowships
Facilitated and awarded Round 3 and 4 of Seed Grants
Developed our working hubs at PAH and Gold Coast Hospital Rehabilitation Department
Attracted and developed New Affiliate Partners and regional partnerships
Awarded new research funding projects and grants with Allied Health Professional Office Queensland, QH, RACQ, a Department of Social Services, Australian Research Council, Metro South Health PA Research Support and MAIC.
Broadening our Communications and Impact with ABC radio show feature, RACQ The Road Ahead and other partner and collaborator engagement activities
Year one and two Seed Grant project completion with emerging examples of service impact

Congratulations to all our members, executives, partners and collaborators on these achievements.


Dr Kelly Clanchy presented on her Seed project experience and lessons learnt of living a seed grant, encouraging other members to get involved in the scheme.
Seed and fellowship grants where announced and we are pleased to congratulate the following members successful in this round of THC grants:
Clinical Fellowships:
Clinician-Researcher Fellowship in Occupational Therapy

Rebecca Seeney was appointed to this Fellowship, a joint initiative of The Hopkins Centre and the Occupational Therapy Department, Princess Alexandra Hospital, MSHHS

Short-term Intensive Clinical Fellowships

Dr Karleigh Kwapil, Neuropsychologist, Project Officer, BIRS Strategic Planning Project, Division of MSHHS
Brooke Wadsworth, Physiotherapist, Spinal Injuries Unit, Division of Rehabilitation, MSHHS

Long-term Clinical Researcher Fellowship

Clare Morgan, Acquired Brain Injury Outreach Service (ABIOS) Speech Pathologist, MSHHS

Seed Grant - round 4:
Dr Gary Allen and team - Supporting ethical inclusion of people with acquired disability in research: consumer informed approaches.
Dr Kelly Clanchy and team - Evaluating the translation of the adapted physical activity program into the TRS: Application of the REAIM framework.
A/Prof Saras Henderson and team - Clinicians' views on the facilitators and barriers that influence the provision of persistent pain management to refugees attending the Persistent Pain Clinic at PAH, including their need for cultural competence training

Two other seed projects to commence in 2019:
Dr Daniel Harvie and team - Virtual reality as a novel therapeutic tool in tertiary persistent pain clinics: A patient perspective.
Dr Ali Lakhani and team -Is increased community participation associated with favourable mental health outcomes among people with spinal cord injury?

The Webb Centre once again provided the beautiful city sunset views which added to a great atmosphere. Thank you to everyone who made the effort to attend at the end of a busy work day, it was celebratory because of your presence. 2019 promises to be another productive year for The Hopkins Centre members and collaborators.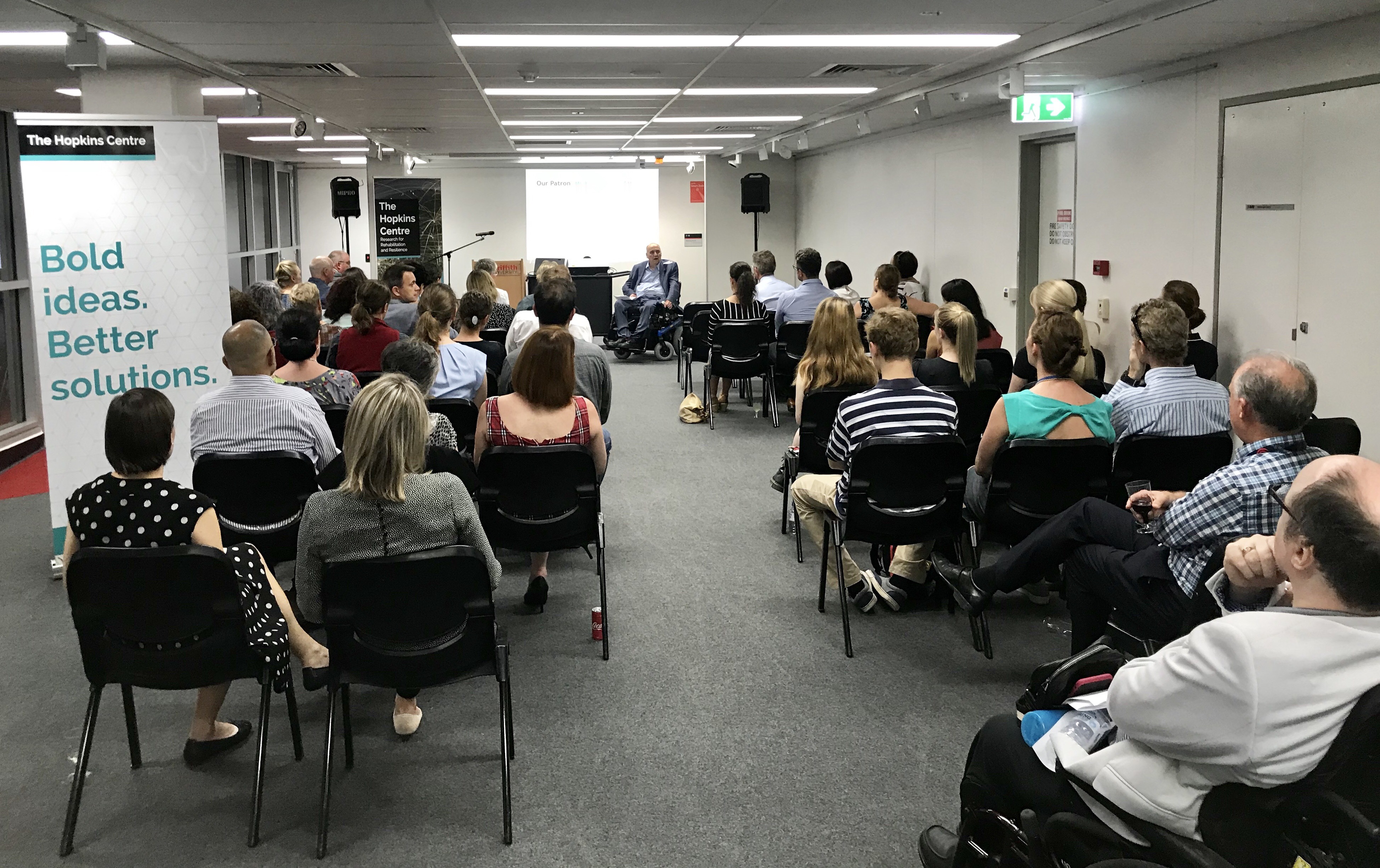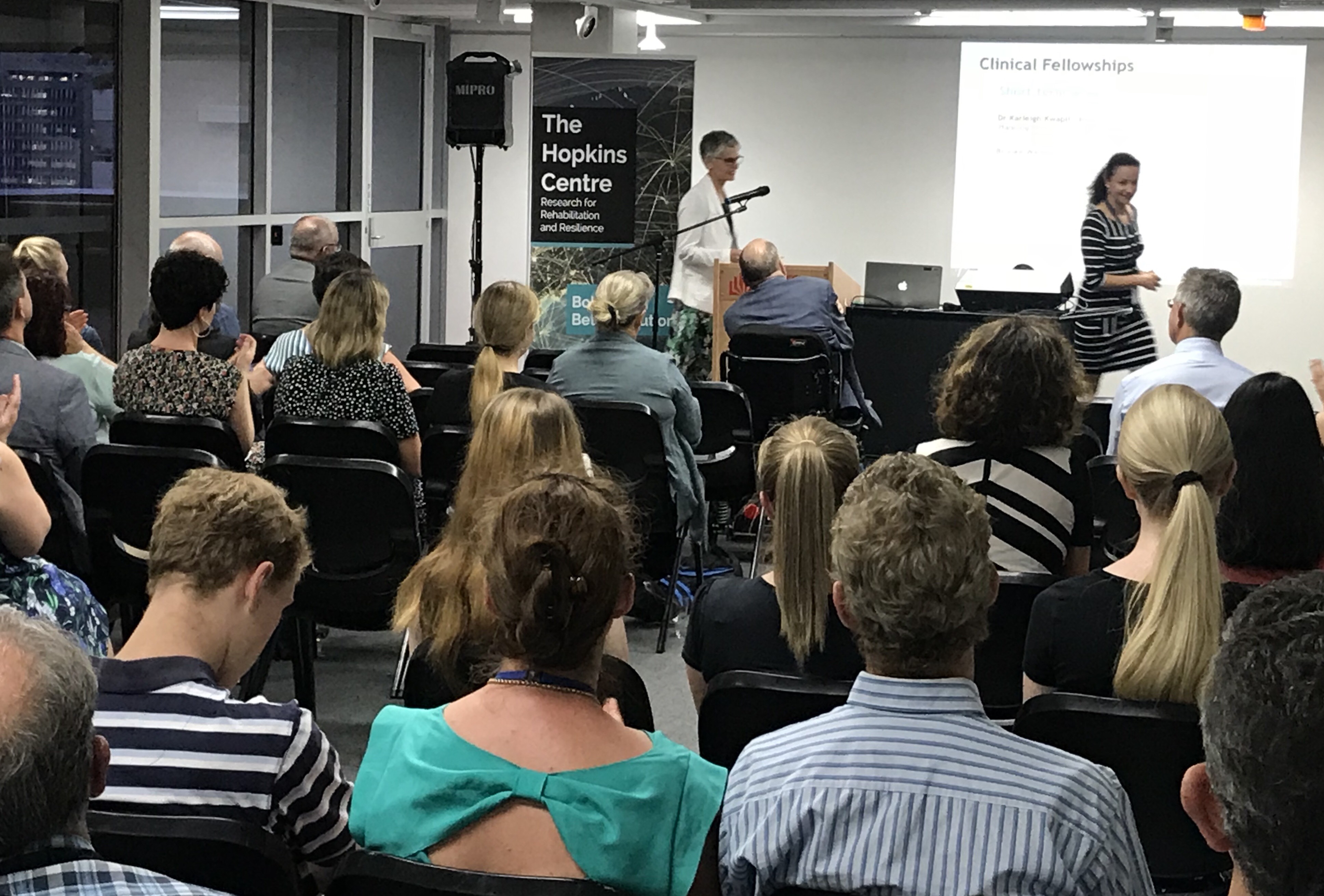 Above left: Mr Kevin Cocks AM speaking as Patron of the Centre. Above right: Prof. Michele Foster MC, host of the meet and mingle Christmas edition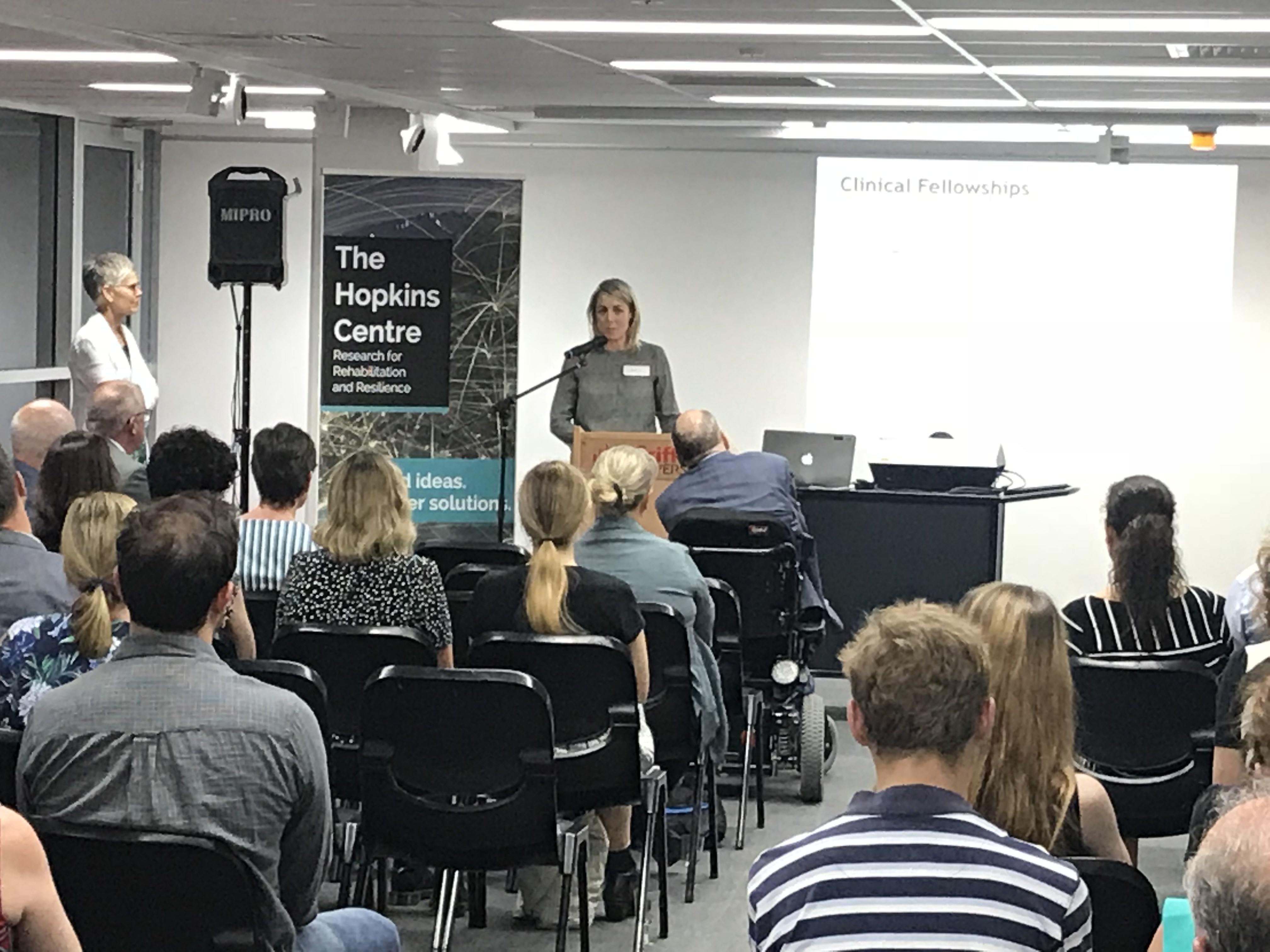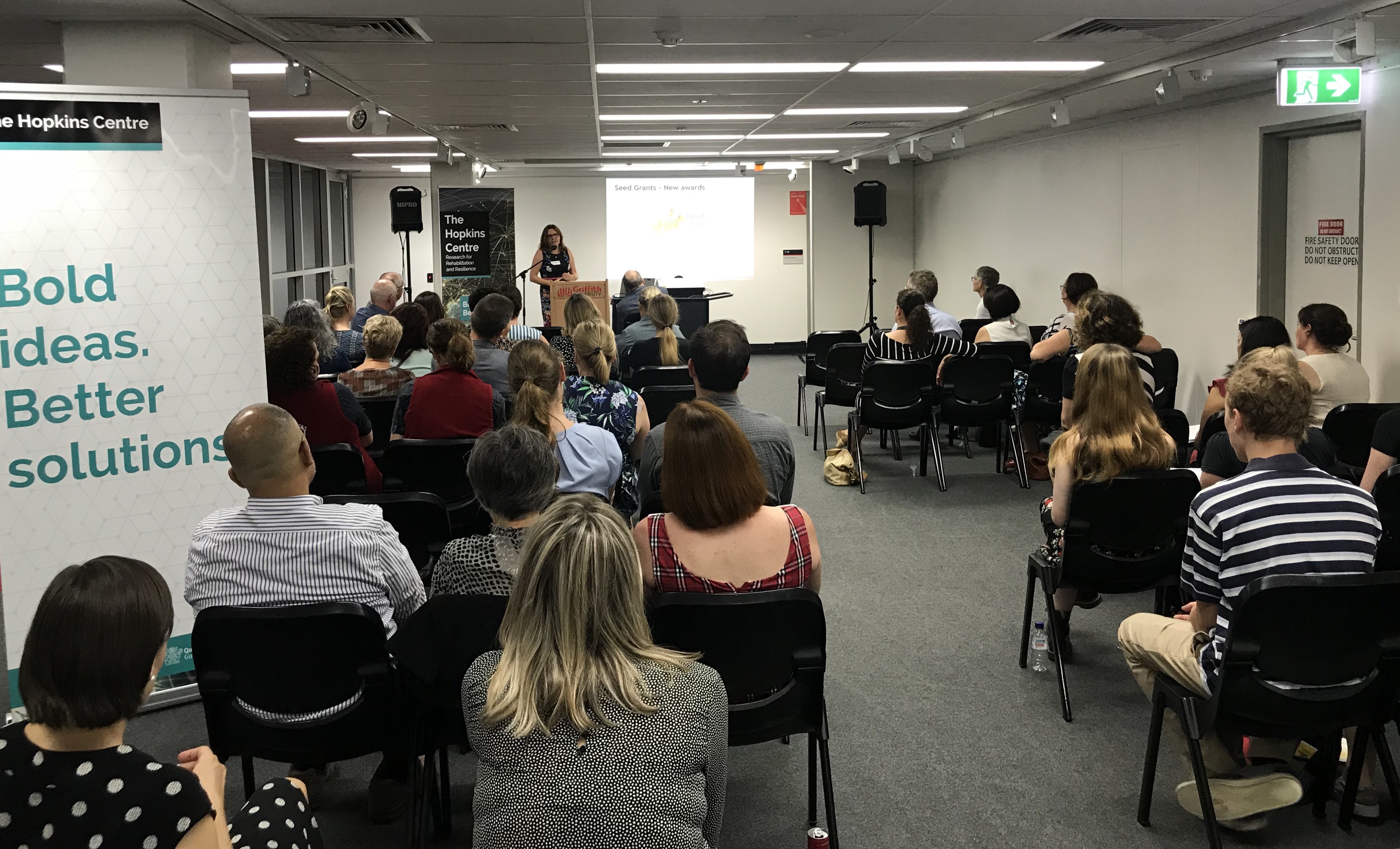 Above left: Dr Clare Morgan providing Seed project insight and advice. Above right: Ms Sally Stewart, Business Development Manager, annoucing successful THC grants
Tags: Meet And Mingle, Awards, Achievements, Ambassadors, Seed, Fellowship Grant
Related Articles
Comments