Tim Geraghty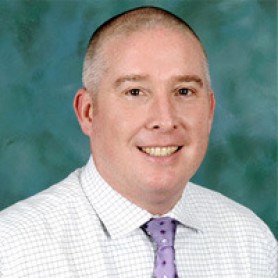 MEDICAL CHAIR, DIVISION OF REHABILITATION
METRO SOUTH HEALTH & DEPUTY DIRECTOR, THE HOPKINS CENTRE

Career Profile
Professor Geraghty received a Fellowship in the Australasian Faculty of Rehabilitation Medicine (Royal Australasian College of Physicians) in 1997. In 1997, he undertook the role of Research Fellow in the Royal North Shore Hospital (RNSH), Spinal Injuries Unit (SIU), Sydney while completing his Fellowship in Rehabilitation Medicine. In 1998, Tim worked again as part-time Clinical/Research Fellow in the RNSH SIU and Staff Specialist at Royal Rehabilitation Centre Sydney prior to returning to Brisbane. He was the Director of the Spinal Injuries Unit (SIU) and Queensland Spinal Cord Injuries Service (QSCIS) at Princess Alexandra Hospital in Brisbane from 1999-2009. In 2005, Tim also commenced in the role of Medical Chair (0.5FTE), Division of Rehabilitation (DoR) at Princess Alexandra Hospital. This involves providing high level medical leadership, management and strategic planning for DoR services including inpatient, outpatient and community based rehabilitation services in spinal cord injury, acquired brain injury, amputee rehabilitation and persistent pain management.
Research Expertise
Dr Geraghty undertakes research in a range of areas related to spinal cord injury medicine and rehabilitation and is currently a co-investigator on several national and international spinal cord injury research projects. He has a keen interest in strategic planning and service development rehabilitation medicine and rehabilitation services in Queensland with the ultimate aim of improving services for people with a disability throughout the state. He was recently appointment Co-Chair of the newly established Statewide Rehabilitation Clinical.
Publications since 2016:
Tweedy S, Vanlandewijck Y, Theisen D, Beckman E, Geraghty T, Perret C. Exercise and Sports Science Australia (ESSA) Position Statement on Exercise and Spinal Cord Injury. Journal of Science and Medicine in Sport, Volume 20, Issue 2, Pages 108–115, 2017.
Battistuzzo C, Armstrong A, Clark J, Worley L, Sharwood L, Lin L, Rooke G, Skeers P, Nolan S, Geraghty T, Nunn N, Brown D, Hill S, Alexander J, Millard M, Cox S, Rao S, Watts A, Goods L, Allison G, Laurenson J, Cameron P, Mosley 1, Liew S, Geddes T, Middleton J, Buchanan J, Rosenfeld J, Bernard S, Atresh S, Dunlop S, Patel A, Schouten R, Freeman B, Dunlop S, Batchelor P. Early decompression following cervical spinal cord injury: examining the process of care from accident scene to surgery. Journal of Neurotrauma, 33:1161–1169, 2016.
Harvey L, Dunlop SA, Churilov L, Galea MP, Spinal Cord Injury Physical Activity (SCIPA) Hands On Trial Collaborators. Early intensive hand rehabilitation is not more effective than usual care plus one-to-one hand therapy in people with sub-acute spinal cord injury ('Hands On'): a randomised trial. Journal of Physiotherapy 62: 88–95, 2016
Van de Pol E, Geraghty T, Atresh S, Lucas K, Pershouse K, Harding S, Wagemakers A, Smith A. The delivery of specialist spinal cord injury services in Queensland and the potential for telehealth. BMC Health Services, 16:29, DOI: 10.1186/s12913-016-1256-2, 2016.