Trajectories of Rehabilitation across Complex Environments (TRaCE)
About the Project
A prospective cohort study of service use and relationship to spatial accessibility and wellbeing after spinal cord injury and acquired brain injury.
The patterns and spatial distribution of health and social resources are critical to service utilisation and psychosocial wellbeing following catastrophic injury such as spinal cord injury (SCI) and acquired brain injury (ABI). Study and understanding of the relationship between geographical accessibility, treatment and support trajectories and wellbeing outcomes is relatively new, however.
Aim & Objective
The aim of this study is to investigate rehabilitation trajectories and experiences of a 12-month SCI and ABI cohort discharged from inpatient rehabilitation to assess social and spatial determinants of service use and wellbeing. The first component of this mixed methods study is a consented prospective cohort investigation incorporating a follow-up of service use and wellbeing based on survey data and data linkage methods and spatial mapping and analysis of the patterning of services and participants' accessibility. The second component involves interviews with a sub-cohort about their experiences of service use and access.
Expected Outcome:
The findings are expected to facilitate an understanding of clusters of high and low risk and assist health and rehabilitation practitioners and funders to build capacity and plan necessary and reasonable treatment and support for persons with SCI and ABI.
Expected Impact:
Specifically, policy stakeholders may use the visual maps to plan new health care services and optimally allocate financial resources.
Click here to download Project flyer Project flyer
Results:
The first longitudinal study in Queensland with a comprehensive data set on rehabilitation for individuals with neurological injury, TRaCE is helping to inform the service delivery of providers including the Queensland Department of Health and Metro South Health by offering insights into areas of the rehabilitation journey where service accessibility, availability and/or approachability may be compromised. The project is highlighting the complexity of factors which have the potential to disrupt patients' journeys and rehabilitation outcomes, and the importance of finding the right match of supports for individual patients' needs and expectations.

Project outcomes of improved coordination and transition are key priorities in the Statewide ABI & SCI Plans for Queensland Health. Looking forward, the TRaCE project will continue it's research into improved coordination and transition outcomes through investigations into personalised pathways, timely interventions and strategies across the rehabilitation and service delivery continuum.
Funding:
This project is funded by MAIC and Metro South Health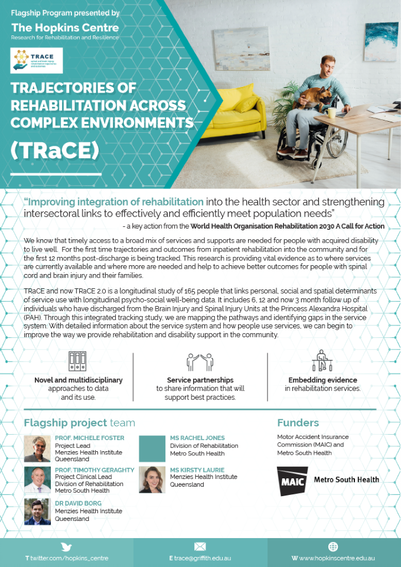 Click here to download project flyer
5 Years of TRaCE
The Hopkins Centre recently celebrated 5 years of ground-breaking disability and rehabilitation research, with our 5 year report. The image below is taken from that report. You can access the full 5 Year Report here or download this infographic only, below.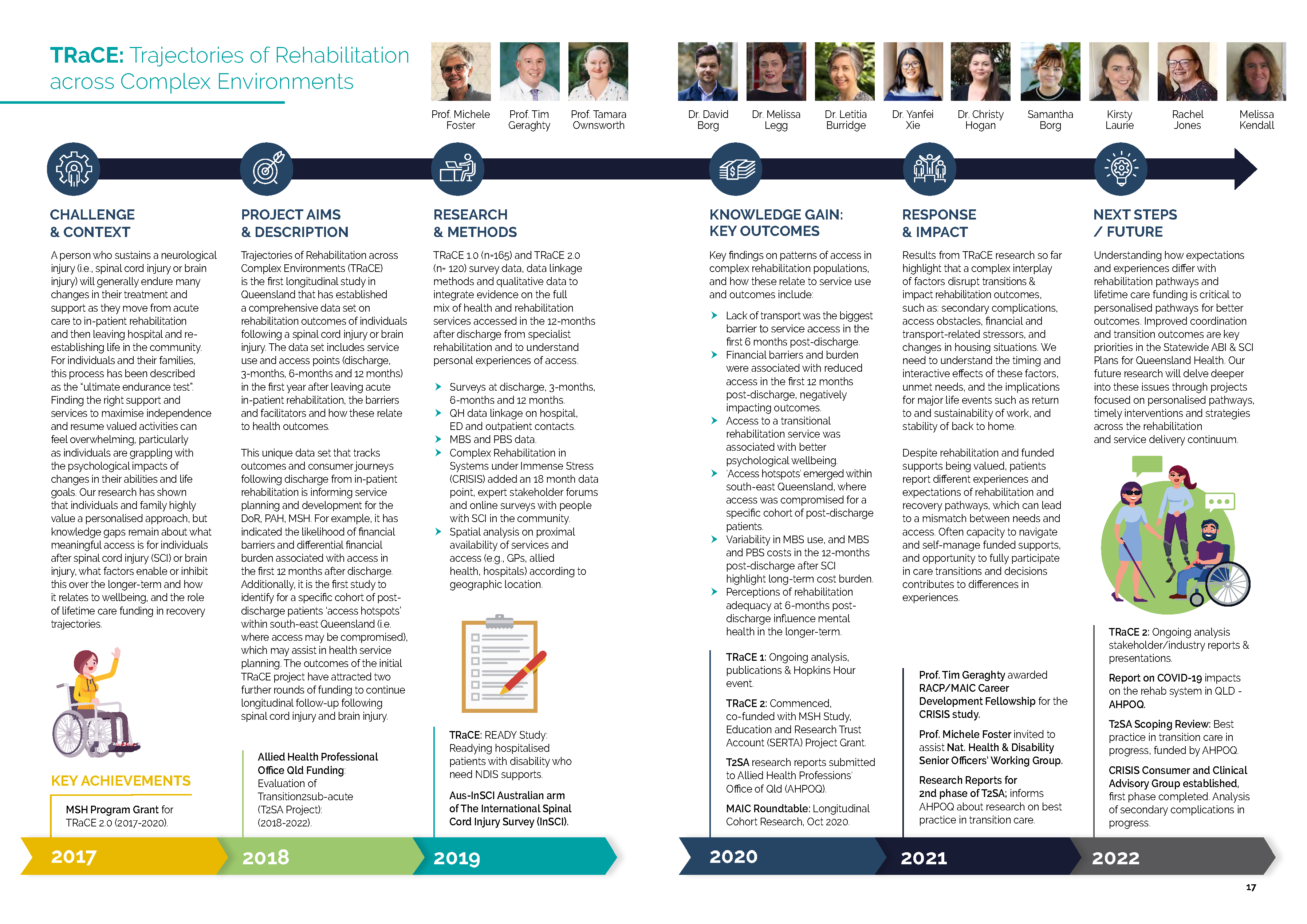 Download the infographic here.
---
View All Researchers
Researchers



PhD Candidate and Research Fellow

Ethics and Governance Support


Professor and Executive Director