Use and Cost of Medicare Benefits Schedule and Pharmaceutical Benefits Scheme Services following Inpatient Rehabilitation for Acquired Disability in Australia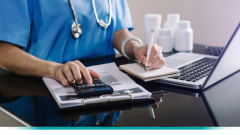 Published 20th January 2023
The TRaCE project is investigating rehabilitation trajectories and experiences of a 12-month SCI and ABI cohort discharged from inpatient rehabilitation to assess social and spatial determinants of service use and wellbeing. This publication, based on data from the TRaCE project provides an important initial benchmark of Medicare use and costs in two groups of people with severe and often permanent, acquired disabilities with complex health and rehabilitation needs. It demonstrates the potential for financial hardship during a critical period of transition back to the community for people with ABI and SCI, and the importance of system and service provider responsibility for minimising patient costs.
Authors

Professor and Deputy Director

Fill out your details to request the publication be emailed to you.
Publication Type
Journal Article
---
Back to Project