The Impacts and Vulnerabilities for People Living with Spinal Cord Injury and Their Service Systems of the COVID-19 Pandemic in Queensland, Australia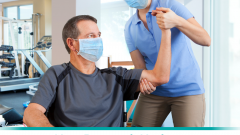 Published 18th April 2023
As part of a larger project, this paper explores the impacts of the COVID-19 pandemic on secondary complications and access concerns for people living with SCI in Queensland and the staff who care for them as well as potential solutions. Via online surveys and expert stakeholder forums, individuals living with spinal cord injury and critical stakeholders highlighted significant service disruption throughout the pandemic. People with SCI experienced difficulty accessing health, community, and rehabilitation services, personal supports, and necessary equipment and consumables. This reduced access led to secondary complications in physical, psychosocial, and occupational domains. People with SCI reported poorer physical health status due to reduced activity, poorer psychosocial outcomes including negative impacts on mental health due to physical and social isolation, and financial implications from loss of employment. Solutions were identified to combat these challenges to support people with SCI and supporting staff during times of crisis. Solutions included action-ready back-up plans, access to effective technology and training, increased collaboration of service networks, and forward planning for system disruption, consumable access, staff support, and advocacy.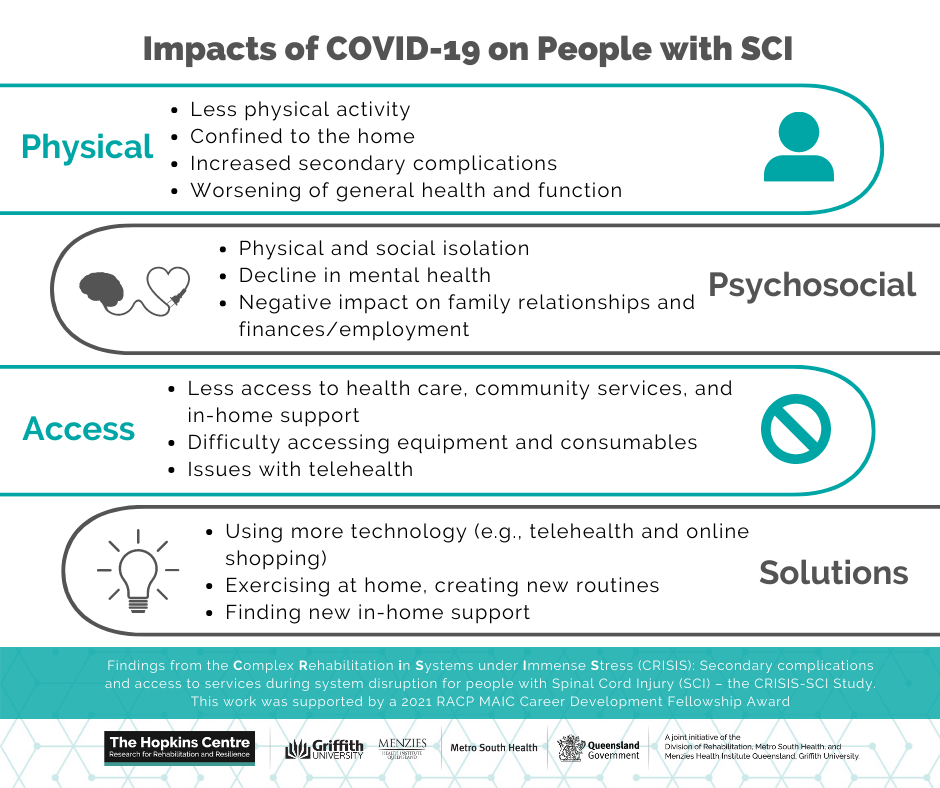 Abstract

As part of a larger study examining the perceived impacts of health system stress in Queensland, Australia, caused by the COVID-19 pandemic, this study explored the experiences and perspectives of a sample of people with spinal cord injury (SCI) and critical stakeholders to identify secondary complications, access concerns, and potential solutions in the context of the pandemic. This study utilised a multimethods qualitative design. Thirty-four people with SCI completed an online survey between August and November 2021, recruited from an online Spinal Life Australia Peer Support Group.
Sixteen SCI expert stakeholders, recruited from the Queensland Spinal Cord Injuries Services, consumer support organisations, and funding agencies, participated in one of two expert stakeholder forums in September 2021, focusing on impacts of the pandemic on the services they provided. Survey and forum results were analysed thematically.
Results highlighted service disruption wherein people with SCI faced difficulty accessing health and community services (including rehabilitation) and personal supports. Reduced access led to secondary complications in physical health, psychosocial, and occupational domains. Solutions for safeguarding access to care, including action-ready back-up plans, effective technology and training, collaboration of service networks, and forward planning for system disruption, consumables access, staff support, and advocacy are required to best support vulnerable populations and the supporting staff in times of crisis. In conclusion, COVID-19 disrupted access to specialist SCI and mainstream health, rehabilitation, and social care services, resulting in functional decline and physical and psychosocial complications. While people with SCI and their service providers attempted to innovate and solve problems to overcome service access barriers, this is not possible in all situations. Improved planning and preparation for future system disruptions mitigates risks and better protects vulnerable populations and service providers in times of severe system stress.

This publication has been released Open Access, you can access the publication here. Doi: 10.1155/2023/7255395
This research was supported by a 2021 RACP MAIC Career Development Fellowship Award, as well as funding from The Hopkins Centre, Motor Accident Insurance Commission, and Metro South Health.
Authors

Professor and Deputy Director

Director, Queensland Spinal Cord Injury Service


Ethics and Governance Support
Click the download button to instantly download.
Publication Type
Journal Article
---
Back to Project